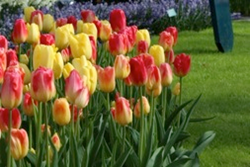 Tulips are the most color-saturated flowers you can grow in spring. Our new varieties will especially offer a burst of color to any garden."
Lakewood, NJ (PRWEB) August 25, 2015
Enjoy a beautiful blooming garden next spring with new flower bulb varieties from Longfield Gardens. From soft pastels to blazing reds and oranges, tulips offer endless opportunities to experiment with colors, styles and bloom times.
"Tulips are the most color-saturated flowers you can grow in spring," said Hans Langeveld, co-owner of Longfield Gardens. "And our new varieties will especially offer a burst of color to any garden."
Color Changers
Gardeners who love the impact of a brilliant red, yellow or orange in the garden don't have to choose just one color this season.
New triumph tulip Montevideo provides a range of color packed into one bulb. Every flower displays its own unique blend of yellow and red, with many beautiful hues in between.
Another color changing tulip, Sundowner, is stunning at every stage. It opens pale yellow with red highlights and over time, the petals deepen in color until the entire flower is red.
Perfect Pairs
Garden designers create a professional look by pairing together flowers that offer coordinating colors and varying heights. This year, Longfield Gardens offers more than a dozen of these 'perfect pairs.'
Contrasting colors, heights and flower styles, along with coordinating bloom times, make Double Flag and Ollioules tulips the perfect pair. Double Flag, a late-bloomer with rich purple petals, pairs perfectly with Ollioules' soft pink hue.
Perfectly Blended Mixes
Mixes are the best way to create an effortless designer look when planting entire landscapes.
Purple Lady Mix is for people who like to make a statement. This triumph tulip mix combines complimentary shades of red, peach, burgundy, lavender purple and pink to create a hot and cold effect. Purple Lady looks amazing in gardens and as a cut flower in vases.
These new tulip varieties from Longfield Gardens will wake spring 2016 with a rush of beautiful color.
For more information about new varieties, please contact Garden Media.
Longfield Gardens is one of America's top importers of quality flower bulbs. Longfield's mission is to bring bulb gardening into every home, offer common sense planting information and stretch your dollar by offering competitive prices that are transparent. This simple approach to selling bulbs saves their customers time and money while increasing gardening success. Longfield Gardens carries an impressive selection of spring-planted, fall-planted and winter product lines, as well as information and inspiration. For more information, visit the website at http://www.longfield-gardens.com or visit the blog at blog.longfield-gardens.com.