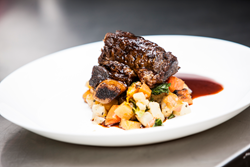 Niagara Falls, ON (PRWEB) August 21, 2015
The 2015-2016 Niagara Culinary Experiences series begins on October 16 with an Oktoberfest celebration at the brand new Niagara Brewing Company and will run until May 2016 with additional brewery events and Fallsview dinners at the Rainbow Room by Massimo Capra and Windows by Jamie Kennedy Fresh Grill & Wine Bar.
This year's lineup includes A Culinary Tour of Piedmont with Massimo Capra, Heritage Farmhouse Christmas with Jamie Kennedy, Icewine Dinner with Jamie Kennedy, Beer on Ice, A Culinary Tour of Abruzzo with Massimo Capra, A Culinary Tour of Sicilia with Massimo Capra, and A Culinary Tour of Toscana with Massimo Capra.
The Oktoberfest event will be the first Niagara Culinary Experience hosted at Niagara Brewing Company on Clifton Hill - a brand new craft brewery that offers unique Niagara-inspired brews and food just steps away from the spectacular Niagara Falls. Guests can expect to indulge in traditional Bavarian food and beer pairings in celebration of the world-famous German beer festival.
"The Niagara Culinary Experiences Series is an amazing way for people to connect with our talented team of chefs including Massimo Capra and Jamie Kennedy, and also experience events that showcase remarkable Italian regions, famous Niagara Icewine, and local craft beer," says Sarah Vazquez, Vice President of Business Development and Marketing at Falls Avenue Resort.
Guests can purchase both Dinner Only and Dinner & Hotel tickets. Dinner Only tickets start from $79 while Dinner & Hotel tickets start from $149. Guests can choose between world-class accommodations at the 4-Diamond Sheraton on the Falls or Crowne Plaza Niagara-Falls Fallsview.
For more information and to book a Niagara Culinary Experience, please visit http://www.fallsavenueresort.com/culinary.
About Falls Avenue Resort:
Falls Avenue Resort is a 20-acre entertainment complex in Niagara Falls, Ontario, that features properties such as the Sheraton on the Falls, Crowne Plaza Niagara Falls-Fallsview, Niagara Brewing Company, Hard Rock Café, Hershey's Chocolate World Niagara Falls, Casino Niagara, and Fallsview Indoor Waterpark. The Resort is home to 35 meeting rooms, 1,200 guestrooms, 12 restaurants, and numerous entertainment sites and attractions.