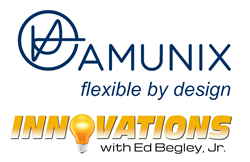 Mountain View, CA (PRWEB) August 21, 2015
Amunix, announced today that they will be featured in an upcoming episode of Innovations with Ed Begley Jr., airing via Discovery Channel later this year. Dates and show times TBA.
Amunix is an industry leader in the discovery and development of long-acting protein and peptide therapeutics. In this episode, viewers will be educated on how Amunix collaborates with biopharma corporations to harness the proprietary XTEN half-life extension technology applied in a wide range of therapeutic areas, delivering improved pharmaceutical safety, efficacy, and dosing.
"Amunix is committed to forming strong and effective partnerships with leading academic, biotechnology and pharmaceutical groups that share our interest to discover, develop and deliver innovative and highly effective therapeutics," said Volker Schellenberger, President and CEO of Amunix. She continued, "Amunix currently offers research and development-grade XTEN's and XTENylated products to its customers and partners, as well as services to support customer's research discovery and development programs for pharmaceutical products. We are delighted to be part of the Innovations series, dedicated to showcasing new technologies and companies like ours."
"Amunix is making waves in the medical arena, and we look forward to enlightening our viewers on the amazing things the company is doing," said Michele Nehls, Producer for the Innovations series.
About Amunix:
Amunix is a privately held biotech company in Mountain View, California, employing 45 talented scientists and industry leaders. Amunix maintains a primary focus on the design and preclinical development of protein pharmaceuticals with extended serum half-lives through the application of our patented XTEN™ technology platform. Amunix solutions are utilized by our partners in the pharmaceutical industries, biotechnology and in academia. Amunix continues to grow and develop our proprietary platform of technologies to advance treatment for a large range of therapeutic indications. Our company vision is to increase quality of life by maximizing the effectiveness of novel pharmaceutical agents through discovery, research, and preferred partnerships.
For more information, visit: http://www.amunix.com
About Innovations and DMG Productions:
Innovations, hosted by award winning actor Ed Begley, Jr., is an information-based series geared toward educating the public on the latest breakthroughs in all areas of society. Featuring practical solutions and important issues facing consumers and professionals alike, Innovations focuses on cutting-edge advancements in everything from health and wellness to global business, renewable energy, and more.
DMG Productions (responsible for creating the Innovations show) includes personnel specialized in various fields from agriculture to medicine, independent films to regional news and more. Field producers work closely with experts in the field to develop stories. This powerful force enables DMG to consistently produce commercial-free, educational programming that both viewers and networks depend on.
For more information visit: http://www.InnovationsTelevision.com or contact Michele Nehls at (866) 496-4065 x 822 or via email at Michele(at)InnovationsTelevision(dot)com.