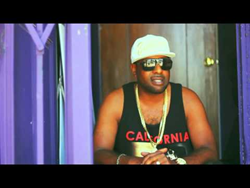 Los Angeles, CA (PRWEB) August 22, 2015
Today Coast 2 Coast Mixtapes announces the release of the new single "How We LA" by Niddy. "How We LA" is the first single of Niddy's upcoming project "To Many City's," coming soon.
The video can be viewed at Coast 2 Coast Mixtapes
Niddy is currently seeking press opportunities, interviews, features, and more. Niddy can be reached via http://www.twitter.com/NIDDYBRAND.
About Niddy: Tyrone Buckner Jr. (born August 23, 1979), also known by his stage name NIDDY, is an American rapper, record producer, actor, and entrepreneur. Niddy was born on the southside of Chicago, IL, where he lived until he was 12 years-old, when his family relocated to southern California. He would move again back east to Atlanta, GA, after his family experienced one of California's worst earthquakes. It was in Atlanta where Niddy began writing song lyrics, rapping and doing local movie projects. Beginning to see that music and film production were his calling, he began reading entertainment books and networking with local songwriters and producers in the city. During his High School years, Niddy struggled to maintain good academic standing and was relocated to an alternative school. On top of this, he became involved in some illicit activities, even having a brief stay in jail in Stone Mountain, GA. After being released, he decided to leave a life of crime behind him and focus on his music, putting together small shows for his home. In the summer of 2000, Niddy began his 1st semester at Full Sail University in Orlando, FL. He would go on to earn degrees in Audio Engineering and Film & Video Production. During his stay at Full Sail, Niddy began working with his uncle Phontane and formed the group Fonzserrelli, also working on two albums with the group NTL (Nation of a Lost Tribe). In the summer of 2002, Niddy released his 1st solo album entitled "SUPER NOW," with its single "Where the Party AT?," featuring Phontane and platinum singer/songwriter, India Lindo, gaining radio-play on Orlando stations and with local club DJs. Niddy/Fonzserreli booked shows around town and even performed in Tallahassee, Tampa and Miami. In 2002, after the birth of his son, Niddy began working as International A&R and Talent Recruiter for World Famous Executive Producer Lou Pearlman at Transcontinental Records/Fashion Rock Entertainment. For more info on Niddy, visit http://www.billboardentertainment.com.
About Coast 2 Coast Mixtapes:
Coast 2 Coast Mixtapes are the most widely distributed mixtapes in the world, with over 100 million downloads/plays generated by over 300 volumes officially hosted by major artists. Coast 2 Coast has a solid reach in the new music industry with a digital magazine, DJ coalition, industry tips blog, yearly convention, and more. Coast 2 Coast Mixtapes represents a unique opportunity for artists of all urban genres, from major to indie. For more information, visit http://www.coast2coastmixtapes.com.