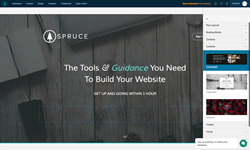 We see many online services moving into this guided territory as web apps progress
Brevard, NC (PRWEB) August 21, 2015
Today, Spruce announces the groundbreaking release of their exceptionally tuned DIY website builder for the real small business owner.
Spruce seamlessly welds together a drag and drop editor, utilizing pre designed blocks or sections, with focused daily action step for each user. Spruce also boasts in app accessibility to the team of creatives, consultants and brand marketing experts ready to guide users through marketing efforts without having to wait on the phone to reach a real person. This mashup creates a power packed tool for beautifully designed websites perfect for the everyday small business.
"We see many online services moving into this guided territory as web apps progress", states Mike McKearin, one of Spruce's two founders. "For those looking for a great looking website and the guidance needed for web marketing, Spruce is the way to go."
Spruce is a new concept, filling this gap in the marketplace. Spruce provides an interactive, user-friendly interface that guides the DIY'er step-by-step through the website creation process.
Once the user signs up and obtains his or her own site, they simply drag and drop from pre-designed blocks or sections to build a beautiful site. If the user gets stuck, the Spruce team is there to offer help. Each time the user visits their Spruce dashboard, an action step alerts them on what they should work on. This eliminates the guesswork behind creating a site on your own.
Users create a homepage complete with their business's email address, social media links, logos, taglines and other relevant information within minutes of signing up. Once satisfied, they can share their site on social media, view it on their desktop or any mobile device which each Spruce site is optimized for.
With a background in branding, web development, and web strategy, McKearin teamed up with Elijah Elkins, a productivity consultant and web entrepreneur. The pair plan on adding additional features and starter designs in the coming weeks.
For those wanting more information, or to begin trying out the service, visit Spruce at SpruceSites.com.