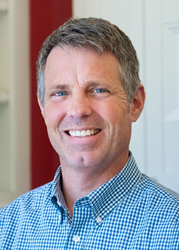 Don has held leadership roles in advertising, marketing, brand identity and design.
Portland Oregon (PRWEB) August 20, 2015
Neil Kelly Company, an award-winning design-build remodeling firm is pleased to announce hiring Don Scharff as corporate marketing manager. In this role, Don will lead the development and management of Neil Kelly's brand strategy, as well as all marketing and communications activities. Don previously served as director of client services at Cappelli Miles.
"Don has held leadership roles in advertising, marketing, brand identity and design," states President Tom Kelly. "He is a key addition to the team and will lead marketing efforts across all of our offices."
"Neil Kelly is an innovative company that's made up of genuinely nice people," states Scharff. "Last year, the firm became a Certified B-Corporation which really speaks volumes about the company's dedication to social responsibility and its progressive culture. I'm fortunate to call Neil Kelly home," shares Scharff.
Neil Kelly Company has team members in Seattle, Portland, Bend and Eugene who specialize in new home building, remodeling, energy-efficiency upgrades and handyman services. Recent accomplishments include:

Winning three Outstanding Remodeling Achievement Awards from The Oregon Remodelers Association (ORA)
Building the first LEED certified custom home in Bend's Tetherow development; will also be the first Tetherow home to feature Juniper siding and Juniper for interior finishes
Installing 400 solar photovoltaic (PV) panels onto the rooftop of Best Western Inn at the Meadows in North Portland making it among the first "solar" hotels in Portland
Two "healthy homes" featured in Seattle's Northwest Green Home Tour
Provided design and construction services to help build a home for veterans and their families transitioning back into civilian life through the Veterans' Housing Project in Eugene
About Neil Kelly
Neil Kelly Company, the largest residential design-build remodeling firm in the Northwest, helps homeowners care for all aspects of their homes. Services include custom homes, award-winning design-build remodeling, energy upgrades and home repairs big and small.
Neil Kelly is proud to be a certified benefit company (B Corporation) and seeks to be a caring corporate citizen in everything that it does. With five Pacific Northwest locations in Portland, Lake Oswego, Eugene, Bend and Seattle, Neil Kelly is renowned for its innovative design and remodeling services, quality craftsmanship and sustainable building practices. Homeowners are invited to visit Neil Kelly design centers or attend free educational workshops. Visit http://www.neilkelly.com.
###