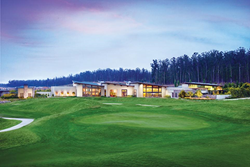 We're thrilled to be recognized once again for our dedication to providing the best lifestyle in the country.
Scottsdale, AZ (PRWEB) August 26, 2015
Trilogy® by Shea Homes®, America's Most Trusted™ Resort Builder, is thrilled to announce that several of its communities have earned top accolades from national media outlets in recent "best of" lists. Recognitions include: '50 Best Master-Planned Communities in the U.S.' by Where to Retire magazine, 'Top 10 Great Place to Retire in 2015' according to Kiplinger, and '10 of the Best Brand-New Active Adult Community' by 55places.com.
All three of these national authorities on real estate and finance have recognized Trilogy by Shea Homes communities and their surrounding areas as premier choices for retirement. Trilogy's communities were commended for their location, commitment to energy efficiency, high caliber home design, and extensive resort amenities. Trilogy offers homeowners a lifestyle it calls The Good Life, and homebuyers are seeking out Trilogy communities across the country to secure their place in one of these exclusive, vibrant communities.
"The Good Life is a lifestyle unique to Trilogy," said Shauna Farmer, VP of marketing and sales. "With more freedom to explore their passions, discover new ones, pursue wellness and find fulfillment every day, our homeowners thrive on our cornerstones of enriched resort living. We're thrilled to be recognized once again for our dedication to providing the best lifestyle in the country. It's a testament to how our communities provide the ultimate places to live for people who want to transform their lives at this exciting time."
Specifically, Trilogy® at Monarch Dunes (CA) and Trilogy® at Vistancia (AZ) we're both listed as '50 Best Master-Planned Communities in the U.S.' by Where to Retire magazine, and Trilogy® at Lake Fredrick (Winchester, VA) and Trilogy® at Lake Norman (Charlotte, NC) are both located in two of the desirable markets in Kiplinger's 'Top 10 Great Places to Retire.' Finally, Trilogy® at Wickenburg Ranch and Trilogy® at Ocala Preserve received distinctions as two of the 'Best Brand-New Active Adult Communities' by 55places.com.
Trilogy resort communities throughout the nation are designed with outstanding 5-star hospitality, innovative homes and vibrant, social communities. Luxury amenities may include resort-caliber clubs, state-of-the-art fitness centers, resort and athletic pools, culinary studios, creativity studios, chef-driven, locally sourced cuisine at a variety of restaurants and bars, day spas, and more. The recent honors for Trilogy communities cement Shea Homes as a leader in providing resort living for Americans across the nation.
"Whether you're enjoying the new freedom of retirement or are engaged in meaningful work, choosing the right place to start the next chapter of your life is an exciting decision for empty nesters," said Farmer. "Trilogy is honored to be part of so many homeowners' lives, and our residents tell us their Trilogy community helps make their life's next adventure a reality."
For more information about Trilogy, please visit TrilogyLife.com. For more information on Shea Homes, please visit http://www.sheahomes.com.
ABOUT TRILOGY ACTIVE LIFESTYLE COMMUNITIES™
As part of the Shea Homes family, Trilogy communities are luxury resort communities offering a new choice in living to those looking for an exciting lifestyle that revolves around wellness, exploration, continued learning and close personal connections. Innovative product design and true resort-caliber amenities reflect the changing needs of the baby boom generation, including world-class clubs, state-of-the-art fitness facilities and a diverse range of recreation and education opportunities. Trilogy by Shea Homes was named America's Most Trusted™ Resort Community Builder for the 3rd consecutive year in the Lifestory Research® America's Most Trusted™ Builders Study. Locations are available in Arizona, California, Florida, Nevada, North Carolina, Virginia & Washington. More information about Trilogy communities is available by visiting TrilogyLife.com or calling (800) 685-6494.
ABOUT SHEA HOMES®
All around the nation, the Shea legacy is featured in countless places, including the Hoover Dam and Golden Gate Bridge. These landmarks symbolize the family's commitment to enduring quality, and we take pride in being part of the American landscape. From this rich history comes Shea Homes' passion for design and quality, as well as a deep understanding of how people live today – what's important to them in a home, and a community. It's why the homes we design today aren't like those built a century ago – or those we'll build a century from now.
That's the Shea Difference™. We build our homes for smart, discerning buyers who appreciate the thoughtful design, thoughtful people and thoughtful processes that are truly set Shea Homes apart. We obsess over the details that matter most and the ingenious innovations that make space more usable, adaptable and livable. When we design homes and communities, we think about real life and how we can make it even better. That's why we are proud to 'live the difference' at any Shea Homes community. For more about Shea Homes and its Trilogy communities, visit TrilogyLife.com or call (800) 685-6494.
# # #