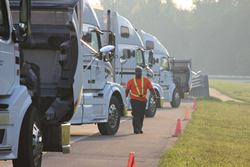 Montréal, QC (PRWEB) August 20, 2015
FPInnovations' Performance Innovation Transport (PIT) Group, a not-for-profit engineering and research group for the North American trucking industry, today announced its Fall 2015 Energotest® event will be held September 9-18 at the Transport Canada test track operated by PMG Technologies in Blainville, Québec.
"The biannual PIT Energotest has become the benchmark for precise, verified and unbiased data, both in Canada and the U.S., on the return on investment fleets can expect from green technologies," said Yves Provencher, director of the PIT Group. "Energotest provides independent verification of performance that gives technology immediate credibility and supports its implementation in fleets.
"The Fall 2015 Energotest event is the perfect time to get technology tested using only the most stringent test-track fuel efficiency evaluation procedures," Provencher continued. "Suppliers that participate in Energotest receive a customized report on their technology's performance to be used as a promotion and decision-making tool. Furthermore, with the current 25 percent Canadian-U.S. dollar exchange rate, the basic $22,000 (CDN) test fee would only cost a U.S. company $17,000 (USD)."
Energotest is also an unparalleled opportunity to network with early adopter fleets in search of solutions to transport goods in an environmentally friendly and cost efficient manner.
Energotest options available include:

TMC-SAE Type II Test Procedure (SAE J1321)-- Fuel consumption testing that compares the fuel consumption of a test vehicle, operating under two different conditions (base and modified), with the fuel consumption of a control vehicle.
SAE J1526 Joint TMC/SAE Fuel Consumption Test Procedure - Type III – Fuel consumption testing that compares the fuel consumption of one component of a combination vehicle to the same component in another combination vehicle.
Fuel consumption tests for specific duty cycles determined according to customer demands.
PEMS - Portable Emissions Measurement System for measuring emissions in moving vehicles.
SAE J1263 Road Load Measurement and Dynamometer Simulation Using Coast down Techniques tests for evaluating the influence of technologies on the drag force of vehicles.
Dynamic performance tests under various duty cycles using a Taylor Towing Dynamometer designed to maintain constant drawbar pull and simulate an uphill slope of 25%.
PIT Power Certification ratings of exact, indisputable fuel economy.
"With the rise in fuel prices and increase in environmental compliance restrictions, the demand for green technologies has never been stronger," Provencher stated, "and more than ever fleet managers with limited time and budgets are insisting on reliable, accurate, indisputable independent data on the performance of green technologies before investing. A number of fleets now refuse to adopt any new technology if it has not undergone an Energotest evaluation and received PIT recognition, and because we work in cooperation with the U.S. SmartWay Transport Partnership, a successful Energotest and PIT recognition is a fast way to get SmartWay designation."
For information and an Energotest registration form:
http://www.pit.fpinnovations.ca/Pages/energotest-en.aspx
About Performance Innovation Transport
Based in Montréal, Québec, Performance Innovation Transport (PIT) is a group of FPInnovations. Formed in 2008, PIT is an unbiased, neutral testing organization to help manufacturers evaluate and refine prototypes and fleet managers select the best technologies to reduce costs and environmental impact. PIT works in cooperation with the U.S. SmartWay Transport Partnership, Natural Resources Canada, and Environment Canada who has selected PIT as the benchmark facility for testing green transportation technologies. PIT evaluates and implements technologies that promote efficient energy use in the commercial transportation, municipal and transit industries. For more information about PIT, visit pit.fpinnovations.ca. For more information about FPInnovations, visit http://www.fpinnovations.ca.
Media Contacts:
Terry Knee
FPInnovations
604-222-5665
terry(dot)knee(at)fpinnovatoons(dot)ca
Susan Fall
LaunchIt Public Relations
858 490-1050
susan(at)launchitpr(dot)com
Technical Contact:
Yves Provencher
FPInnovations
514-782-4523
yves(dot)provencher(at)fpinnovations(dot)ca