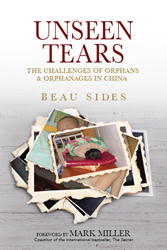 Thinking of the orphans and their struggles inspired me to write the book.
Peachtree City, Georgia (PRWEB) August 24, 2015
Did you know that a staggering 98 percent of abandoned children in China have disabilities? Parents are faced with giving up their children because they simply can't afford to care for them. Beau Sides has witnessed this first hand, and has announced the launch of an inspiring new book titled "Unseen Tears." In this book, Sides, founder and president of Global Partners in Life, shares an enlightening glimpse into the many hardships that orphans and orphanages in China face.
Available now on Amazon.com, CreateSpace.com, BarnesandNoble.com, and HudsonBooksellers.com, Sides paints an accurate picture of the challenges - and glimpses of encouragement - for China's orphans. Based on Sides' nearly 50 trips and teaching tours, this book chronicles the overwhelming odds and very limited resources that both the orphanages and children encounter.
"Thinking of the orphans and their struggles inspired me to write the book," said Sides. "Many of them live in less than ideal circumstances, are faced with severe illnesses, and have no voice, nor an outlet to tell their stories. Hopefully readers will be moved by their stories and will feel compelled to assist these children who are truly in need."
Endorsements for "Unseen Tears" have been abundant.

Mark Miller, vice-president for Leadership Development at Chick-fil-A shares, "As you read his description of the people, places and circumstances encountered on any given day, be prepared to be transported there, to meet extraordinary people, and to be changed."
Randy Gravitt, co-author of "Finding Your Way" says, "This powerful story about China's orphans will move your heart and call you to be a part of making a difference in the world."
Bill Treasurer, author of "Leaders Open Doors" wrote, "Unseen Tears" is a wonderful and wholesome book that reminds readers about the affirming power of human goodness… it's a story of love, compassion, and personal leadership."
Linda Freeman, author of "Inspired for Greater Things" said, "There are so many current world events that are loud and chaotic, demanding our attention. Yet Beau's book refocuses our attention on a group of children who are quietly hidden away but desperately needing our attention."
"Unseen Tears" includes 28 chapters with titles like "Please Don't Take My Children," "Whirlwind," and "The Secret." For more information on "Unseen Tears," (including a free sample chapter, details on Beau, advanced praise, press coverage, and purchasing information), visit http://www.beausides.com.
About the Author
Beau Sides is the founder and president of Global Partners in Life, a non-profit organization that helps orphaned children, special needs orphans, and disadvantaged youth with educational, humanitarian and medical needs in China. He has written "Lessons from China", and "Unseen Tears: The Challenges of Orphans & Orphanages in China."
Unseen Tears: The Challenges of Orphans and Orphanages in China
By Beau Sides
August 2015
Paperback, $12.95; 214 pages
978-0692448861