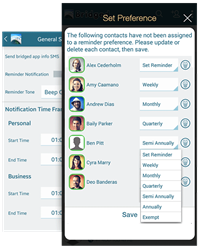 (PRWEB) August 21, 2015
Maybe it's a customer that needs nurturing. Maybe the boss likes periodic check-ins. Maybe no one calls their mother enough. Whatever the reason, the bridged mobile app keeps track of whom a user has exchanged calls and texts with – and when it's time to reach out again.
The app is available now for $0.99 on Google Play. A petition to allow bridged mobile on Apple devices is available at http://www.bridgedmobile.com/feedback.
When first starting bridged mobile, the user is prompted to set a reminder frequency for each contact on the phone. The reminder options include:

Weekly
Monthly
Quarterly
Semi Annually
Annually
Exempt
Users can select whether calls or texts (or both) count as communication. If there's been no communication for a week with a contact set to Weekly, a notification lets the user know.
All a contact's details can be managed within bridged mobile, which syncs with Android's native contacts database. Name, phone number, and email address contact fields are visible and completely editable. Contacts can also be "Dusted", or deleted.
An additional checkbox designates the contact as either Personal or Business. Notification times for Personal and Business contacts can be scheduled for different times of day.
The bridged app was developed by Zco Corporation for Jeff Marley, a heavy equipment salesman from California. "It just came to me one December night that the most qualified to look after my contacts and remember when to call them of course is not me. We as people forget," Marley said. "Certainly not my laptop or PC either; they have no idea who I call or who calls me any given day, not unless I take the time to update them. No, it was obvious to me the most qualified to manage my contacts is my device. It knows everything already – who I call, who I text, who calls me, and who texts me – and most importantly who I haven't been in touch with by call or text."
About the Developer
Zco Corporation is a tried-and-true software development company that has been living and breathing technology for over 25 years.  A proven and reliable vendor choice, Zco is passionate in its mission to create attractive, resilient products for its clients. Its powerhouse team, one of the largest in the world, was handpicked for specialties in mobile app development, enterprise software, and animation services. To learn more, visit Zco.com or call 603.881.9200.