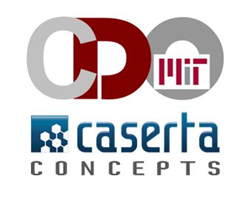 "The CDOs in attendance have big data projects percolating, are seeking answers to complex technology questions and...are ready to implement solutions today."
New York, NY (PRWEB) August 24, 2015
MIT's Chief Data Officer & Information Quality Symposium (MITCDOIQ), led by data quality pioneer Dr. Richard Wang, is one of the world's leading forums dedicated to enterprise data quality in business and industry. This year's event celebrated the "Chief Data Officer" (CDO) with speaker presentations and panel discussions focused on recognizing the critical and strategic importance of enterprise data quality and management in public and private sector organizations.
The 9th Annual MIT CDOIQ Symposium took place on the MIT Campus in Cambridge, MA and featured a presentation from Caserta Concepts president Joe Caserta. Joe's session, "The Evolution of Today's Big Data Environment: Innovation with Unstructured Data for Strategic Outcomes," struck a chord with the 200 CDO leaders in attendance from a variety of business sectors in industry, government and academia.
"The interest, energy and commitment to the power of data analytics was impressive," commented Joe Caserta. "The CDOs in attendance have big data projects percolating, are seeking answers to complex technology questions and, recognizing the overall importance of maximizing data value, are ready to implement solutions today."
Along with a keynote speech by Michael Stonebraker, adjunct professor at MIT known for his research and development of relational database systems, panel discussions included CDOs and analytics practice leaders from Fidelity Investments, Cigna, TD Ameritrade and Seattle Children's Hospital. In his session, Joe led the audience through two client success stories illustrating how to achieve high data quality and assure accurate, complete, consistent and reliable data results to support a business' bottom line.
"We are excited about the value our speakers brought to the event, encouraging a level of dialog, interchange and feedback rarely seen," commented Robert Lutton, MIT CDOIQ Symposium Co-Chair. "Our speaker partners were able to engage in meaningful discussions with attendees, many of whom are now on their way to solve real business issues."
Joe's presentation on the "Evolution of Today's Big Data Environment" can be found here
About Caserta Concepts:
Caserta Concepts is an award-winning strategic consulting and technology implementation firm specializing in big data analytics, data governance, data warehousing and business intelligence. Founded in 2001 by industry thought leader and best selling author, Joe Caserta, consultants collaborate with CIOs and IT organizations across a variety of sectors including banking and financial services, healthcare, ad-tech, Higher Education and ecommerce to build technical data solutions and provide analytics services to maximize data value.
For more information, please visit: Caserta Concepts
Connect with Caserta Concepts on Twitter and LinkedIn
You can also follow Joe Caserta on Twitter and LinkedIn