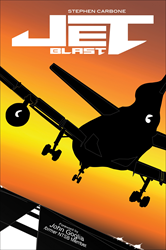 Bealeton, VA (PRWEB) August 24, 2015
Aviation author Stephen Carbone excites, illuminates and details the inside scoop of accident investigation in the aftermath of an airline tragedy in his novel titled "Jet Blast."
"Germanwings 9525, Malaysia MH370, Unmanned Aerial Vehicle policies and the problems they present – these are all issues that have captured our collective attention of late – and for good reason, too," says Carbone, who carries an extensive background in the commercial aviation industry, with more than three decades of experience.
"As an aviation author and FAA-certificated specialist, I wanted to create a platform to help the traveling public understand these issues better. Ralph Waldo Emerson once wrote, 'Fiction reveals truth that reality obscures,' I wanted to reveal some sobering truths about where air travel may be heading. I keep it entertaining and accurate; I crank up the suspense and allow the technical threat to remain elusively under the surface like a White Shark hunting off a crowded beach."
In the novel, a wide-body jet is nearly lost in the Pacific Ocean; the cause: unknown. Despite the seriousness of the incident, the National Transportation Safety Board (NTSB) management decides against an investigation.
Daniel Tenace, a dedicated NTSB accident investigator, has seen a similar malfunction before. Acting on his own, he investigates the unusual occurrence against mounting pressures from his superiors. But just as Dan starts piecing it together, a routine passenger flight ends in tragedy on a runway in Memphis; the events leading up to this crash are identical to the near-disaster over the Pacific.
Dan leads the accident probe; relying on years of experience, he must determine if the accident was caused by the aircraft, the pilot, or new air traffic technologies that were installed. If he fails, the lives of many and the future of modern aviation could well hang in the balance.
"I loved this book! I have an aviation maintenance and accident investigation background, so I am a somewhat demanding reader," writes Amazon reviewer Mary, who gave the aviation author's book five stars. "Too often the aviation books I have read left me cold because the authors set up impossible plots or made technical errors in the narrative that grate on the reader who has any real aviation experience. Not so this great read! Mr. Carbone writes with an obvious depth of familiarity with today's complex aviation electronic systems, the government agencies that police the industry, and the men and women who fly and maintain these sophisticated aircraft. I was hooked from the first chapter. The characters are genuine, the action realistic, and the plot certainly timely. I highly recommend 'Jet Blast' to anyone who likes action, suspense and an insider's view of accident investigation."
About Stephen Carbone
Stephen Carbone is an FAA-certificated aircraft technician and has been active in the commercial aviation industry for over 30 years. He was an aircraft mechanic for a major airline, repairing state-of-the-art airliners and managing maintenance work crews with a front row seat into both sides of a successful airline. After acquiring his Masters degree in Aviation Safety Systems, Carbone was hired by the NTSB to investigate major aircraft accidents both domestic and international. While at the NTSB he streamlined how they investigate aircraft maintenance and engineering issues. He trained future investigators at the NTSB Academy and taught aeronautical students at a nationally recognized aeronautical university, instructing by use of his experiences. He later worked at the FAA for over a decade as a technical specialist and air cargo point of contact, supporting FAA inspectors to the airlines. He wrote articles for aviation trade magazines that were read by thousands of aircraft technicians, pilots, and engineers. "Jet Blast" is the aviation author's first in a series of stories that give the reader a first hand look into how accident investigations are really conducted, from a FAA-certificated technician's point of view.