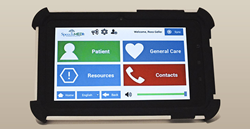 SpeechMed Caregiver removes the language and reading obstacle to healthcare
Miami, Florida (PRWEB) August 26, 2015
Taylannas Inc., a Miami, Florida-based company announced today that it is bringing SpeechMED Caregiver™, a breakthrough product for patients and their caregivers, to the crowd funding site Indiegogo. SpeechMED Caregiver™, is a multi-language audio solution that is specifically designed for seniors, visually impaired and others with low health literacy. The innovative design works to solve two of healthcare's biggest problems. Traditional healthcare communication is a general failure for the majority of patients, and there is a lack of easy-to-use tools for caregivers. The team at Taylannas is bringing SpeechMED Caregiver™ to the crowd on its Indiegogo campaign because most applications that are built and bought by the traditional healthcare establishments are designed for the 14% of the population with high English language health literacy and are frequently inaccessible to the people who really need them.
Taylannas CEO Susan Perry commented, "The question that we ask ourselves over and over again is how can people do what they need to do if they don't understand the instructions? It doesn't make sense. At virtually every point in the spectrum the healthcare system requires patients to read and understand important healthcare information. Considering the fact that 90 million people cannot read or understand the instructions on their pill bottles it's a pretty frightening situation and the consequences are devastating for them and their family caregivers."
Caregivers are frequently tired and worried about their patient. They may work a job and still have children to manage in addition to their responsibility of taking care of a loved one. SpeechMED Caregiver™ empowers patients and their caregivers with vital information read to them in the language that they understand. They can upload a wide range of personalized care information including medications, reminders, emergency contacts, allergies and appointments in the very easy to use, secure portal and access it from numerous devices. It also assists the Caretaker in remotely monitoring some of the patient's activities. Instructions can be left in a different language for other caretakers who may not understand or read English very well. This is especially important for the 1 in 5 families that speak a language other than English in their homes and keeps everyone on the same page.
SpeechMED Caregiver's Indiegogo Crowd funding campaign: http://bit.ly/1KDTWXl