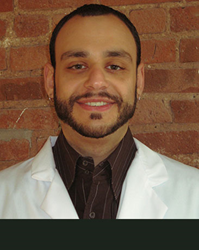 The only thing that I did differently while trying to get pregnant, at 42, was get acupuncture at Garden Acupuncture and it worked. -D D.
Brooklyn, NY (PRWEB) August 21, 2015
Garden Acupuncture is currently in the works of creating new educational videos for Fertility, Dermatology, and Pediatrics.
Garden Acupuncture wants to bring awareness and educate the community in how Chinese medicine can help treat these and a variety of other ailments, conditions, and diseases.
At Garden Acupuncture they offer a unique option for your fertility concerns. One of Garden Acupuncture's doctors, Alex Goldberg, has had the esteemed privilege of working under Dr. Randine Lewis an MD and TCM doctor who is the central figure in fertility medicine today. He is actually the only person in Brooklyn who has worked with Dr. Lewis. You may be familiar with her books: "The Way of The Fertile Soul" & "The Infertility Cure."
Many don't know that acupuncture for children is an option, and kids love acupuncture! For those who are needle shy Garden Acupuncture can use other techniques such as painless laser acupuncture, microcurrent, shoni-shin tools (non-invasive rounded treatment instruments), and tui-na (pediatric medical massage).
Skin disorders such as eczema, psoriasis and acne affect nearly 20% of Americans. Most medical doctors have one standard treatment providing temporary relief for these dermatological conditions. Garden Acupuncture addresses the patient as a whole and treat the root causes instead of only symptoms. Garden Acupuncture is able to custom tailor treatments for each patient and change the treatment as needed as the skin heals.
Garden Acupuncture welcomes everyone to a unique healing option and are here to help guide any health concerns. If you are ready to start your journey to better health don't hesitate and book today .
Garden Acupuncture is a family-run, small business in the heart of Park Slope. They pride themselves on individualized, affordable treatments and are committed to offering the best holistic care to the local community. They also accept insurance.
790A Union St. (between 6/7th Ave)
GardenAcu.com
347.987.4399
Specializing in fertility medicine, weight loss, allergies, pediatrics, pelvic pain, dermatology, and facial rejuvenation using acupuncture, Chinese herbal therapy and nutritional counseling.