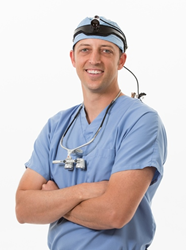 Clovis, CA (PRWEB) August 20, 2015
Dr. Scott R. Jett, a leading periodontist in the Fresno, CA area, is now accepting patients in Clovis, CA, who are in need of dental implants. Implant dentistry has been around for decades, but it has made huge advances in recent years. The implants utilized today can last for decades with proper care. Dr. Jett urges patients in need of tooth replacement to consider utilizing this treatment option, which is performed using guided surgery.
Missing teeth can be caused by a numerous range of factors. Negative habits like smoking and an unhealthy diet are prime causes of tooth decay, which may result in missing teeth when appropriate measures are not taken to remove such habits. Accidents resulting in significant trauma may also cause teeth to loosen and fall out. Even among all considerable factors, periodontal disease still remains the nation's leading cause of tooth loss. The condition has become so prevalent in the U.S. that as many as four percent of people 64 and older have lost all of their natural teeth and a substantial amount of the population have been shown to be missing a single tooth.
Dental implants are ideal for Clovis, CA patients because they are a permanent alternative to other tooth replacement options. Dentures were long touted as the go-to treatment for many patients, yet retained many undesirable side effects. The most common side effect is the degeneration of the bone in the jaw. When teeth fall out, the bone no longer receives the stimulation it requires to remain strong and healthy, eventually leading to deformations in the jaw structure. Stimulation of the jawbone is required to prevent this from occurring. When dental implants are placed, they function and simulate as natural teeth to stimulate the jaw, preventing further deterioration.
Patients in need of dental implants in Clovis, CA can find the tooth replacement treatment they desire from Dr. Jett. Interested individuals can learn more about the procedure by visiting the doctor's website, at http://www.jettperio.com.
About the Doctor
Dr. Scott Jett is a periodontist offering personalized dental care for patients in Fresno, CA. Dr. Jett has been setting the highest standards of excellence in periodontics, gum surgery and dental implants for nearly ten years. With a practice emphasis on dental implants and periodontal surgery, he continues to be a leader in the Fresno area. He earned his undergraduate degree at Auburn University and his dental degree at the Medical College of Georgia School of Dentistry before completing specialized post-graduate training in periodontics, as well as earning a Master of Science degree in bone physiology, from the Medical College of Georgia. In addition, Dr. Jett is a published author and an active member in many leading dental organizations, including the American Dental Association, American Academy of Periodontics, International Congress of Oral Implantologists, Fresno Madera Dental Society and the 3i Implant Innovations STP Study Club. To learn more about Dr. Jett and the services he provides, please visit his website, http://www.jettperio.com or call (559) 339-0826.