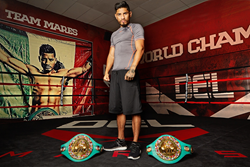 Los Angeles, CA (PRWEB) August 20, 2015
"It's not where you come from, it's what you can do," says three-division World champion boxer @AbnerMares in the digital documentary chronicling his journey on Premier Boxing Champions (http://www.premierboxingchampions.com). The docu-series gives fans a glimpse into Mares' life and career in boxing. "Getting to Know: Abner Mares" shows Mares' readying for his August 29 Premier Boxing Champions (PBC) on ESPN fight against Leo Santa Cruz at Staples Center in Los Angeles.
The five-part series can be viewed on the PBC's Facebook, Twitter and YouTube channels, with new episodes premiering through Tuesday, August 25.
This former Mexican Olympic team member discusses his journey as a child from Guadalajara, Jalisco MX to Hawaiian Gardens, to his career as a professional fighter in the series. Also seen, exclusive footage and family photos as well Mares on his passion for music, giving back and supporting his community and his fitness, diet and training regimen.
Mares' fights Saturday, August 29 at Staples Center. Tickets for the event, which is promoted by TGB Promotions, are priced at $25, $50, $75, $150 and $300, not including applicable fees and service charges, and are on sale at AXS.com or by phone at 888-929-7849 or at Staples Center.
For more information, visit http://www.premierboxingchampions.com, staplescenter.com and TGBPromotions.com.
Follow on Twitter @AbnerMares, @PremierBoxing, @ESPNBoxing, @STAPLESCenter, and become a fan on Facebook at http://www.Facebook.com/PremierBoxingChampions.
Follow the conversation using #PBConESPN.
Contacts:
Michael Donahue, Premier Boxing Champions: (630) 441-8080
Hanna Bolte, Bolte Media/Mares: (310) 497-5586
Media Credentials for the fight: http://www.magnamedia.com