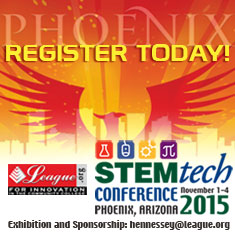 Chandler, AZ (PRWEB) August 25, 2015
Join colleagues from around the world for the best of STEM, analytics, big data, advanced technology, and learning management architecture at the 2015 STEMtech conference in Phoenix, Arizona, November 1-4.
The League's STEMtech conference and the University of Maryland University College's Analytics Summit have joined forces for this event, and the collaboration has led to the redesign of conference programming. Special sessions, concurrent sessions, roundtable discussions, and poster sessions are presented in the following conference tracks.

Learning Analytics
Advanced Technology Systems and Learning Management Architecture
Using Analytics to Recruit, Retain, and Transition Students
Advances in E-Learning
Health and Science
Mathematics, Engineering, and Architecture
Manufacturing, Energy, Aerospace, and Agriculture
Integration of STEM and the Liberal Arts
This event offers an exciting and intellectually stimulating program, including keynote presentations by Ellen D. Wagner, Chief Research and Strategy Officer at Predictive Analytics Reporting Framework, and Susan Rundell Singer, Director of the Division of Undergraduate Education at National Science Foundation.
The early registration deadline for STEMtech 2015 is October 2, 2015. Register by this date to qualify for the lowest rate. League Alliance member discounts are also available.
For additional information about the STEMtech conference and to register, visit http://www.league.org/2015stemtech/.
About the League for Innovation in the Community College
The League for Innovation in the Community College is an international nonprofit organization dedicated to catalyzing the community college movement. The League hosts conferences and institutes, develops print and digital resources, and leads projects and initiatives with more than 800 member colleges, 160 corporate partners, and a host of other government and nonprofit agencies in a continuing effort to make a positive difference for students and communities. Information about the League and its activities is available at http://www.league.org.