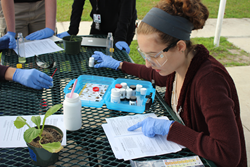 Gainesville, FL (PRWEB) August 24, 2015
As students head back to classrooms throughout Florida, many can look forward to having extra hands-on learning opportunities thanks to an "Innovation Generation" grant program from the Motorola Solutions Foundation, the charitable arm of Motorola Solutions, Inc. Through the grant, the Consortium of Florida Educations (CFEF) will challenge county-wide school district education foundations to create substantive, experiential learning opportunities outside the classroom that are directly linked to student coursework in science, technology, engineering and/or math (STEM).
The Innovation Generation program awards organizations throughout the U.S. such as the CFEF that foster and support STEM initiatives for teachers and U.S. preschool through university students – especially girls and underrepresented minorities.
"A critical component of engaging today's students and encouraging them to consider careers in the STEM arena is providing hands-on learning opportunities. The Motorola Solutions Foundation gives students the chance to truly understand how classroom curriculum translates into real world employment," said Mary Chance, CFEF President.
The Motorola Solutions Foundation has partnered with the CFEF since 2011 to support student achievement in STEM areas through a competitive grant process for teacher-led projects that involve the unique opportunities and resources of their community. Past projects involved students engineering human-powered submarines, using phytoremediation to remove poisonous arsenic from soil and developing new mobile apps.
The Motorola Solutions Foundation grant program overall will impact about 900,000 students and teachers, each receiving an average of 100 programming hours from partner non-profit organizations and institutions.
"The Motorola Solutions Foundation created the Innovation Generation Grant program eight years ago to support educational experiences that spark students to turn their dreams into the innovations that will shape our society's future," said Matt Blakely, director of the Motorola Solutions Foundation. "Organizations like the Consortium of Florida Education Foundations are teaching tomorrow's leaders that careers in engineering and technology are not only fun, but also within their reach."
For additional information on the Motorola Solutions Foundation grants programs, visit: http://responsibility.motorolasolutions.com/index.php/solutions-for-community/ and for more information on the CFEF please visit http://www.cfef.net.
About the Consortium of Florida Education Foundations
The CFEF is the membership organization for Florida's school district-wide local education foundations. Established in 1987, the CFEF seeks to advance student achievement in Florida by increasing private-sector investment and involvement in public education. The CFEF represents 60 member foundations with 1,100 business and community leaders serving as volunteer board members. Collectively, they raise more than $45 million annually to support students, teachers and schools through a variety of programs. The CFEF has provided more than $33 million to local education foundations since 2002 through various private- and public-sector partnerships, including the State of Florida School District Education Foundation Matching Grant Program.
About Motorola Solutions Foundation
The Motorola Solutions Foundation is the charitable and philanthropic arm of Motorola Solutions. With employees located around the globe, Motorola Solutions seeks to benefit the communities where it operates. The company achieves this by making strategic grants, forging strong community partnerships and fostering innovation. The Motorola Solutions Foundation focuses its funding on public safety, disaster relief, employee programs and education, especially science, technology, engineering and math programming. For more information on Motorola Solutions Corporate and Foundation giving, visit our website: http://www.motorolasolutions.com/giving.