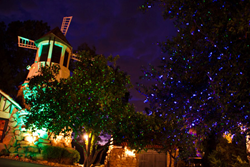 ESCONDIDO (PRWEB) August 21, 2015
BlissLights is set to debut the Motion as one of its new products to enter the Spright Family series. The product will feature the same innovative technology seen in its predecessor, the Spright, a unique lighting experience that projects thousands of pin-points of light to create a "firefly" effect using patented technology, but has been redesigned to hold new features that will take illumination to the next level for consumers. BlissLights enthusiasts are anticipating what they are calling the new "instant holiday light" to come out this year.
The new BlissLights Motion, with its improved laser holographic technology projects a brighter, moving firefly effect. Each color choice has been precisely engineered to produce the same point density for an equal output of illumination, and the red choice now comes with a dual laser for increased star field coverage. Like previous versions, this low-voltage laser will be able to project over a wide coverage area of up to 2500 sqft and will be have indoor and outdoor functionality.
The Motion will also introduce two additional features: a remote control and built-in timer. Users will now have the ability to control the intensity and speed of the pin-points of light with a remote control that has been designed to be easy-to-use. The product will also include a built-in timer that will turn on for 6 hours and then turn off for 18 hours which will eliminate set-up time and extra wires.
The product is set to come out by the end of summer 2015 and will start at a retail price of $199. It will also be compatible with any accessory available to the Spright for increase usability of product.
For more information please visit any of these pages:
BlissLights Resources
Facebook: https://www.facebook.com/BlissLightsOfficial
Twitter: https://twitter.com/BlissLights
YouTube: https://www.youtube.com/channel/UCNPAGDCSS_NGKWNVdglN1gQ
Instagram: http://instagram.com/blisslightsofficial
Pinterest: http://pinterest.com/blisslights
About BlissLights
BlissLights, Inc., is an artistic lighting company founded in 2006 after inventing, engineering, and patenting a unique multiphase diffractive holographic optics and light projection technology. Using the latest technologies developed for special lighting, BlissLights creates unique products that mesmerize and Wow. The company's patented technology, originally developed for theme parks, has been redesigned to be easy to use, energy efficient, and affordable for your home. BlissLights brings forth a new lighting experience that creates a new standard in the indoor and outdoor lighting industries. For more information, visit http://www.blisslights.com
SOURCE BlissLights