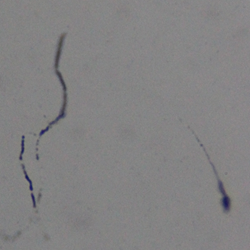 San Francisco, CA (PRWEB) August 25, 2015
If Lyme disease is sexually transmitted, what are the implications for the general population? An editorial published online on August 21, 2015, in the prominent infectious disease journal Expert Review of Anti-infective Therapy explores what happens if Lyme disease morphs from a tickborne illness into a sexually transmitted disease (http://informahealthcare.com/doi/abs/10.1586/14787210.2015.1081056).
Lyme disease is caused by Borrelia burgdorferi, a type of corkscrew-shaped bacteria called a spirochete (pronounced spiro'keet) that is known to be transmitted by ticks. The Lyme spirochete resembles the agent of syphilis, long recognized as the epitome of sexually transmitted diseases. In 2013 the Centers for Disease Control and Prevention (CDC) announced that Lyme disease is much more common than previously thought, with over 300,000 new cases diagnosed each year in the United States. That makes Lyme disease almost twice as common as breast cancer and six times more common than HIV/AIDS.
The editorial was written by two members of the International Lyme and Associated Diseases Society (ILADS), San Francisco internist Raphael B. Stricker, MD, and Canadian microbiologist Marianne J. Middelveen, Mdes. The article reviews the evidence from animal models and human studies of possible sexual transmission of Lyme disease, including a study published in December 2014 that convincingly showed the presence of the Lyme spirochete in semen and vaginal secretions from Lyme disease patients (http://f1000research.com/articles/3-309/v3).
The authors point out that contact and/or sexual transmission of Borrelia burgdorferi was demonstrated in mouse and dog models more than 25 years ago. Around the same time, sexual transmission of the Lyme spirochete was demonstrated by Russian researchers in ticks that transmit the disease to humans. Those studies have never been repeated.
"The old mouse and dog studies are intriguing, and the tick studies suggest that sexual transmission of Borrelia burgdorferi occurs in arachnids," said Dr. Peter Mayne, an ILADS member and Lyme researcher from Australia. "If these studies can be replicated using modern technology, we would have much more information about how Lyme disease spreads."
"The combination of animal model evidence and live spirochetes in human genital secretions strongly suggests that sexual transmission of Lyme disease occurs in humans," said Ms. Middelveen. "We need to do more research to determine the risk of sexual transmission of this syphilis-like organism."
Dr. Stricker pointed to a potential paradigm shift in assessing the risk of Lyme disease. "Recognition that Lyme disease can be sexually transmitted would be a game changer," he said. "We need to re-examine available animal models, including ticks, to learn more about sexual transmission of the Lyme spirochete."
Contact information: Jesus Walker Salas officemanager(at)usmamed(dot)com