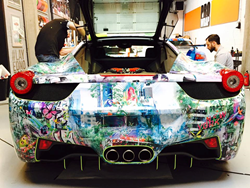 Everything is just more exciting when you drive a supercar
Amsterdam, Netherlands (PRWEB UK) 23 August 2015
Joseph Klibansky is one of the top young contemporary artists of today. He is about to enter his first "The Challenge – a private rally". A supercar tour that kicks off on August 31 in Berlin and will take him through 10 different cities and cover thousands of kilometres.
Klibansky's own race towards stardom started with a blast. A business graduate, he found his passion for art in the digital sphere when he was 23, and now, at just 31, is widely appreciated by collectors around the world for his dynamic paintings and sculptures. "When I do something I want to do it fast because I feel a strong urge to communicate," explained Klibansky.
A rebel with a team
Klibansky received a lot of support from the art world which allowed him to re-invest his earnings and grow to a team of 17 people today. "It's about believing in yourself and reinvesting. You are never self-made, you always need a great team that trust your vision," said Klibansky.
A rebel at heart and with the sixth gear in place, he didn't stop to study Fine Art. He knew what he wanted to do and went for it. Klibansky brings positive energy in every piece he makes, "Aesthetics are important. Everything I create has to have an attractive energy that lures the viewer in," explained Klibansky.
Painting the sexiest canvases on earth
Little did he know that one day, his canvas would be a Porsche. "I got an offer I couldn't resist, to combine my art with a piece of automotive excellence.
"You might have spotted the Porsche 911 Turbo in the Gumball 3000 Stockholm - Las Vegas. It took me about 1,5 months to finish it but turned out to be one of the most photographed cars in the rally. Can you imagine a more amazing canvas than that?," Klibansky continued.
Everything is just more exciting when you drive a supercar
His passion for motorised vehicles started as a kid, when at the age of 12 he got his first cross bike. "I've always been a petrolhead. When I'm driving I feel free and creative and my mind is at its most productive.
"You wake up like a kid at Christmas. There's an excitement in the air. You start the engine, the sound, the acceleration. How people perceive you and turn their heads as you come driving through the streets. There's an attraction. Everything is just more exciting when you drive a supercar," enthused Klibansky.
This year for The Challenge rally, Joseph Klibansky is ready to take it to the next level, his imagination has no limits. He has designed another exclusive new Art-Car with a Ferrari 458 Italia. This time using five of his artworks.
Follow Klibansky as he gets ready for The Challenge. Exclusive insights brought to you by We Are Cars, Powered by Bare International.