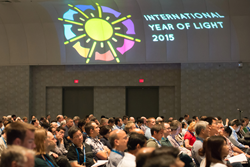 This is the first time this product has been shown at Optics + Photonics, and I've made good, new contacts on the first day.
BELLINGHAM, Washington, and SAN DIEGO, California, USA (PRWEB) August 20, 2015
Impressive work in innovative photonics technologies that will change everyday life, enable new cures, and expand our knowledge of the universe was reported in the more than 3,300 talks at last week's SPIE Optics + Photonics in San Diego. Continuing celebration of the International Year of Light and Light-based Technologies highlighted the event, which ran 9-13 August.
Registration for this year's meeting was up over 3% from last year, at 4,446. The 183 companies in the exhibition hall -- also up from 2014 -- saw good traffic. Exhibitors commented on the excellent synergy between conference presentations and the many high-quality leads collected.
"We presented at the conference and now attendees can come put their hands on the device at our display," said Carlos Camara, Chief Scientist at Tribogenics.
Harry Skolnik of LightTrans GmbH said his company is "excited by the size of the U.S. market," and were encouraged by response at their booth. "This is the first time this software product has been shown at Optics + Photonics, and I've made good, new contacts on the first day of the show," he said Tuesday.
Exhibitors also appreciated the proximity to conference rooms and the size of the event.
"We have had a lot of good leads and customers visiting the booth. The exhibition is a nice size and close to the conference, so there is time to talk, which is great," said Brock Koren, Business Development Manager at Zygo Corporation.
Technical reports covered topics such as:

how scientists engineered the landing of the Rosetta orbiter's probe Philae on Comet 67P and future plans for the mission, by U.S. Rosetta Project Manager Artur Chmielewski (Jet Propulsion Lab, NASA)
single-atom-thick materials to revolutionize optical computing, by Nader Engheta (University of Pennsylvania)
changes in the optical "toolbox" for designing the next generation of wearable displays, by Bernard Kress (Google)
new technology for the Exo-S mission's search for exoplanets, by Sara Seager of MIT
nanoscale technologies to hold proteins for study -- indefinitely -- by Reuven Gordon (University of Victoria)
organic electrodes that improve monitoring and recording of epileptic episodes and other brain function, by George Malliaras (Ecole Nationale Supérieure des Mines de Saint-Étienne)
cadmium telluride for solar cells so efficient they could displace the dominant silicon market share and span the gap to grid parity, by Wyatt Metzger (U.S. National Renewable Energy Lab)
ultrafast and ultraslow imaging techniques, each with transferable potential in medicine, semiconductor R&D, and improving understanding of earthquakes, by Keisuke Goda (University of Tokyo).
Photos and write-ups of a sampling of technical talks are posted in the on-site news blog at http://www.spie.org/OPnews.
In a talk for industry representatives, SPIE Industry and Market Analyst Stephen Anderson presented the latest updates in the ongoing photonics market analysis by the society, with results including growth in revenues, jobs, and companies in the world's core photonics industry.
SPIE CEO Eugene Arthurs urged photonics leaders to "make the most of the International Year of Light and Light-based Technologies" (IYL2015). While the United Nations-decreed observance has been impressively effective in raising awareness about photonics and sharing the benefits of light-based applications, those gains should only serve to encourage more activity, he said. "There is still much that needs to be done, to end poverty and make good on the promise of shared prosperity throughout the world."
SPIE President Toyohiko Yatagai of Utsunomiya University introduced nine of the 58 new Fellows of the Society named in 2015, and presented several SPIE awards during a gala banquet.
SPIE Past President Eustace Dereniak, Professor Emeritus, University of Arizona College of Optical Sciences, was announced as winner of the President's Award, and SPIE Fellow Jim Oschmann, Vice President and General Manager of the Civil Space and Technology business unit of Ball Aerospace, of the Directors' Award.
Yatagai also presented others awards announced earlier, including the society's highest honor, the Gold Medal of the Society, to SPIE Fellow Nader Engheta of the University of Pennsylvania.
Also receiving awards at the banquet were:
Richard Juergens (Raytheon Missile Systems), A.E. Conrady Award
Aristide Dogariu (University of Central Florida), G.G. Stokes Award
SPIE Fellow Rajpal Sirohi (Tezpur Univerity), Chandra S. Vikram Award in Optical Metrology
SPIE Fellow Virendra Mahajan (The Aerospace Corporation), Educator Award
Alan Lee (LongWave Photonics LLC), Early Career Achievement Award, Industry Focus.
SPIE Optics + Photonics 2016 will run 28 August through 1 September in the San Diego Convention Center.
About SPIE
SPIE is the international society for optics and photonics, an educational not-for-profit organization founded in 1955 to advance light-based science and technology. The Society serves nearly 264,000 constituents from approximately 166 countries, offering conferences and their published proceedings, continuing education, books, journals, and the SPIE Digital Library in support of interdisciplinary information exchange, professional networking, and patent precedent. SPIE provided more than $4 million in support of education and outreach programs in 2014. http://www.spie.org