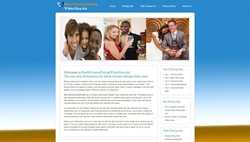 (PRWEB) August 23, 2015
The goal of this website BlackWomenDatingWhiteMen.biz has always been to simplify the process of interracial dating by providing all the essential resources that may come in handy in the process. The Team understands that finding a life partner isn't that easy and takes a great deal of patience, time, effort and full commitment. This is why the company has always taken the time consuming task of finding dating options for people with different cultures and preferences.The website can cater all their needs to find a potential match and get the ball rolling.
Amongst the new features, the site contains integrated social media buttons for other interracial dating sites and blogs to foster improved communication with the clients. The BlackWomenDatingWhiteMen.biz will be constantly updating site content with helpful informational resources such as reviews and informative blogs and client successes in the News section that will be available soon.
The company hopes that people find the new website with a fresh look, easy to access information and also wish to establish this portal as a source of information for those who visit our site and find love online.