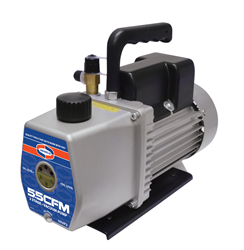 A powerful, lightweight, cooler running, two stage, deep vacuum pump.
For Lauderdale, Florida (PRWEB) August 21, 2015
Uniweld Products, Inc. is proud to bring the latest in vacuum pump technology to the HVAC and Refrigeration industries with the new addition to their product line, the U5VP2 5.5 CFM Vacuum Pump. This 2-Stage vacuum pump is built for deep vacuum and long term reliable service on many appliances, to include residential and commercial air conditioning units as well as commercial refrigeration systems.
Uniweld's U5VP2 5.5 CFM 2-Stage Vacuum Pump features 1/4" (on quarter inch) and 3/8" (three eighths inch) male flare intake fittings with tethered caps; it also has a factory micron rating of 15 microns. This vacuum pump's 6 foot removable power cord is included and the power selector switch can toggle between 110 or 220 volts. The U5VP2 5.5 CFM weighs only 20 pounds and the center balanced handle has a non-slip grip to make moving the unit safe and easy. The U5VP2's heat dispersing fins and internal fan help keep the motor running cool. There is also a large sight glass is located on the front of the oil reservoir and allows easy oil level monitoring.
It is very important to remember that regular oil changing is imperative to any vacuum pump functioning at its peak performance. When the vacuum pump oil changes color from being transparent to being milky white that means the oil has contaminates suspended in it and needs to be changed. These contaminates in the oil can potentially harm the pump when it is running because they can get into the 2 stages and ruin the rotary veins. Regular oil changes will prevent this from ever happening and 1 gallon or 1 quart bottles of replacement vacuum pump oil is sold by Uniweld as well under Part# 42006 & 42005. The combined features of Uniweld's new U5VP2 5.5 CFM 2-Stage Vacuum Pump make this product a powerful, lightweight, cooler running, two stage, deep vacuum pump that is sure to impress all who use it.