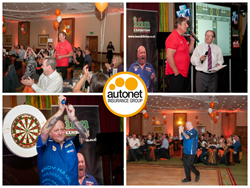 The evening has been a tremendous success, enjoyed by all. As we are official sponsors of professional darts player Andy Hamilton, it made sense for us to combine the two together and hold this fantastic evening for the hospice.
(PRWEB UK) 21 August 2015
Autonet's charity darts evening held in aid of The Donna-Louise Trust saw professional darts players Eric Bristow and Andy Hamilton take on attendees in an exhibition style match.
Sporting commentator; John Gwynne opened the evening, held at the Stoke Moat House; where guests enjoyed a three course meal before being wowed by the professional players entering to their respective entrance music.
Eric Bristow took to the oche first; the Crafty Cockney entered to Chaz & Dave's 'Rabbit' much to the audience's delight. He then challenged six audience members to a game, all of which had donated to the charity for a chance to play.
During the interval, John Gwynne entertained spectators with witty anecdotes before drawing the charity raffle where numerous prizes were won; including a 49" LED TV, signed Stoke City & Robbie Williams memorabilia, all of which was donated to the charitable evening.
Andy 'The Hammer' Hamilton was up next, entering to his classic entrance music; MC Hammer's 'You Can't Touch This'. He also challenged 6 members to play and delighted enthusiasts with a few tricks shots thrown in.
The evening was drawn to a close by John Gwynne before revellers then enjoyed a disco until the early hours. The event was the first of its kind organised by Autonet Insurance and has proved to be a huge success, raising over £1000 on the night for the Donna-Louise Trust.
In 2014 alone, Autonet donated over £23k to help charitable causes both nationally and locally through numerous fundraising activities. All of their fundraising is done through The Autonet Charity Committee which was set up after staff and directors wanted to give back to the local community. Since the Autonet Charity Committee first began in 2010 over £80,000 has been raised to charities locally and nationally.
Hamilton said: "It's all for a local cause, the Donna Louise Hospice. As I'm from Stoke-on-Trent myself, I wanted to give a bit of my time to give something back to them. It was a great event and everyone was there for the charity and digging deep. It was a really good atmosphere. There has been a great turnout for the first ever event and you will most definitely see me at these events in years to come."
Managing Director, Ian Donaldson said about event: 'The evening has been a tremendous success, enjoyed by all. The Donna-Louise Trust are a local charity who provide essential support to children with life-limiting conditions and their families and we have supported their cause for a number of years. As we are official sponsors of professional darts player Andy Hamilton, it made sense for us to combine the two together and hold this fantastic evening for the hospice.'