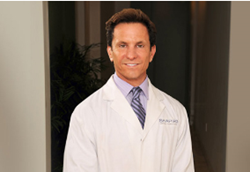 Scottsdale, Arizona (PRWEB) August 24, 2015
Dr. Daniel Shapiro is proud to announce the addition of Kybella to Shapiro Aesthetic Plastic Surgery and Skin Klinic. The much sought after treatment is the only FDA approved, noninvasive injectable product designed to eliminate a double chin. Kybella stands out among the more traditional, surgical choices to sculpt the chin, such as liposuction, for its exceptional benefits with little risk and no downtime.
Kybella is produced by Kythera Biopharmaceuticals, and was first approved by the Food and Drug Administration in April. Made from Deoxycholic Acid, a substance that occurs naturally in the body, Kybella targets unwanted fat cells. The injectable dissolves the cell walls, allowing the fat to be safely metabolized and eliminated by the body.
At the Shapiro Skin Klinic, all Kybella treatments are performed in a comfortable, private treatment room. Varying on the severity of submental fat, between two and six Kybella treatments, spaced four weeks apart, are required for optimal results.
Benefits from Kybella are dramatic. As the fat cells are absorbed by the body, the tissue under the chin will return to a youthful, smooth appearance. Most people will begin to see an improvement in their double chin after one to two treatments. The treated fat cells do not return, making the results from Kybella permanent.
Since its approval this spring, Dr. Shapiro has been including Kybella in many facial rejuvenation treatment plans. He explains, "Kybella is a wonderful addition to a noninvasive (regime)." However, some patients may not benefit from the injectable. Dr. Shapiro continues, "Kybella is performed in people that have localized fat and moderate skin tone. Not everyone is a candidate…that is why you need to see someone honest, to make sure you are a great candidate (for Kybella)."
Dr. Shapiro has more than 22 years of experience in cosmetic and reconstructive surgery. The founder of Shapiro Aesthetic Plastic Surgery, Dr. Shapiro been the recipient of numerous awards for his exceptional work and contribution to the Scottsdale community. In 2005, he expanded his practice to include the Shapiro Skin Klinic, offering clients the best noninvasive procedures.
Anyone interested in receiving more information on Kybella, or any of the other procedures offered at Shapiro Aesthetic Plastic Surgery and Skin Klinic, should contact the office at 480.451.1700. Patients planning on traveling from outside of the Scottsdale area may request needed assistance with accommodations, dining, or transportation reservations.
Contact:
Shapiro Aesthetic Plastic Surgery and Skin Klinic
5410 North Scottsdale Road
Building F-100
Scottsdale, Arizona 85253
480.451.1700
http://www.shapiroplasticsurgery.com/