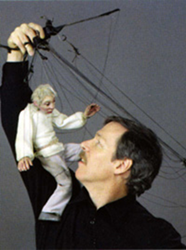 Owings Mills, MD (PRWEB) August 21, 2015
On Sunday, October 25, 2015, at 3:00pm, the Gordon Center for Performing Arts is bringing internationally-acclaimed puppeteer Joseph Cashore to the stage for a performance of his show "Simple Gifts."
Unlike any puppet show you have ever seen, Cashore masterfully manipulates his hand-crafted marionettes into vignettes that delight children and adults and explore our lives through theatrical illusion, music, humor, and grace.
Cashore's marionettes are intricate, mesmerizing and a lot of fun to watch.
Cashore, who performs across North America, Europe, and Asia, is a recipient of a Citation of Excellence from Union Internationale de la Marionette (UNIMA-USA), the highest honor an American puppeteer can receive. UNIMA states that Citations are "awarded to shows that touch their audiences deeply; that totally engage, enchant and enthrall."
By creating and engineering his own marionettes, Cashore creates a completely original show and presents flawless technique and control mechanisms to make his "characters" do what he pleases. To help establish mood, Cashore moves his puppets to Beethoven, Vivaldi, Strauss and Copland, and, through the marionettes, presents what it means to be human.
According to Randi Benesch, Managing Director of the Gordon Center, "I am thrilled for this opportunity to witness the fine craft of Joseph Cashore. October 25, we will all receive Joseph's 'Simple Gifts' – simple life moments and simple reflections from a cast of inanimate performers who come to life with visibly 'real' human emotions and visibly 'real' reactions to life events. To see Joseph on stage working this kind of magic – this is our gift to you!"
Please join us for this fascinating show sponsored by the Katzner-Panitz family. Tickets are $15 for adults and $10 for children in advance, and $17 for adults and $12 for children at the door.
For media inquiries regarding this event, contact Gordon Media Relations Manager Billy Treger at btreger(at)jcc(dot)org or 410.559.3616.
For tickets visit gordoncenter.com or contact info(at)gordoncenter(dot)com or call 410.559.3572.
###
The Peggy and Yale Gordon Center for Performing Arts is Baltimore County's premiere arts destination. The Gordon Center offers an eclectic variety of professional entertainment in music, theater, dance, family programming and film. You will experience world-class acoustics in an intimate, state-of-the-art venue. Free parking in well-lit spaces, handicap accessible, and equipped with a special RF system for the hearing impaired, the Gordon Center can be enjoyed by all.