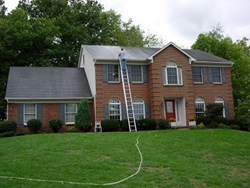 In some cases, homeowners think that there may be damage due to stains and debris, when ultimately, a simple cleaning will do the trick.
Pittsburgh, PA (PRWEB) September 01, 2015
Soapy Roof, Inc., a Pittsburgh, PA roof cleaning service has worked with hundreds of realtors and homeowners to improve curb appeal before the sale of a home. The independently owned company has saved homeowners the time, hassle, and expense of unnecessary roof replacements through preventative and cleaning services through years of experience. To help realtors and homeowners improve curb appeal, increase value, and get a better resale price, Iannacchione has released a tip sheet on ways to identify a quality contractor.
Soapy Roof, Inc. President and Owner, Brad Iannacchione contends, "In some cases, homeowners think that there may be damage due to stains and debris, when ultimately, a simple cleaning will do the trick. I thought I would provide some inspiration (and confidence) as they dive into the resale process."
President and CEO Brad Iannacchione has provided the following tips:
1. Invest in a certified roof cleaner. A certified roof cleaning technician has experience and the tools to efficiently remove debris, algae, and stains from the shingles without causing any damage. A certification is not required, so it is advised that customers check for this before hiring a contractor.
2. Opt for the Soft Wash. Iannacchione's Pittsburgh, PA roof cleaning service company provides a "Soft Wash." This certified process, recommended by all insurance companies, can save homeowners and realtors a lot of heartache. In some cases, roof cleaners will use a power washer, intended for much harder surfaces, but turn the dial down. Even with the reduced pressure, shingles will be stripped and bacteria can actually spread.
3. Find a roof cleaning company that will work fast and efficiently. Iannacchione suggests that a qualified company, one in which customer service is a priority, should be able to do the job in less than two hours. Any more than this will cause disruption to the yard and the customer's ability to showcase the home. In addition, the company should require very little lead time to get to the job. When selling a home, time is of the essence.
4. Look for a guarantee. A reputable roof cleaner will guarantee services because it is likely the provider will know, in advance, if a stain can be removed.
Soapy Roof. Inc. has cleaned thousands of roofs throughout the country. Aside from the experience and training the company provides to customers, Iannacchione leads the business with a positive, enthusiastic attitude toward the work. The company president offers a final tip, "Find someone who is passionate about the process and helping you sell your home. We love our work and the people we meet, and I think that is definitely reflected in our work."
For more information on how to find a qualified roof cleaner, contact Soapy Roof at 412.607.2605 or visit http://www.soapyroof.com.
About Soapy Roof, Inc.
A leader in the Pittsburgh PA roof cleaners industry, Soapy Roof, Inc. provides homeowners and realtors with a certified Soft Wash roof cleaning process to safely remove all black streaks, moss, and lichens. Soapy Roof is located at 4096 New Texas Rd., Pittsburgh, PA 15239.
This press release was crafted and distributed by Green eSolutions. Green eSolutions is an internet marketing team of professionals with a passion for technology, design, brand awareness, and innovative strategies for reaching audiences throughout the country.