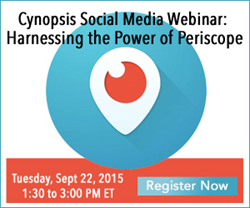 New York, NY (PRWEB) August 24, 2015
The latest Cynopsis Social Media Webinar, Harnessing the Power of Periscope, on Tuesday, September 22 will demonstrate how to utilize the live-broadcasting app, engaging viewers and driving traffic on this wildly popular, Twitter-owned interactive streaming platform. Periscope has taken the social media world by storm, boasting 10 million users and 40 years of watch time per day. The ingenious, inexpensive marketing tool engages viewers in a way that "lean-back" linear just can't – but also has businesses apprehensive about piracy.
Cynopsis Editor Lynn Leahey will host the September 22 webinar, along with the following speakers: Joseph Hodorowicz, Talent Manager at Collective Digital Studio; Dave Perry, VP, Future TV + Cross Platform Innovation for VH1; Jesse Redniss, Co-Founder of BRaVe Ventures; and Ilana Stern, Senior Director Consumer Marketing & Brand Strategy at Oxygen.
Attendees will leave this 90-minute webinar with the know-how to:

Make a good first impression and avoid beginner missteps
Integrate Periscope into a social media strategy; understanding where it fits, and its unique offering in comparison to its competitors
Find the right audience and promote for a strong turnout
When to go public or private for a broadcast
How to protect their rights while also taking advantage of a new platform that can boost their brand
In addition, the session will allow for real time Q&A's to ensure specific questions are answered. Register today for the Cynopsis Social Media webinar "Harnessing the Power of Periscope."
All Webinar attendees will receive full access to speaker presentations for 1 year, along with a certificate of completion. Webinar tuition is based on location, not number of participants, so each registration site can have multiple participants for one low price. Questions? Contact Trish Pihonak at trish(at)cynopsis(dot)com.
About Cynopsis Media:
Cynopsis Media is a division of Access Intelligence LLC. The Cynopsis Media family of products includes Cynopsis, Cynopsis Digital and Cynopsis Sports daily e-publications, weekly Cynopsis Jobs Advantage e-publication, Special eReports, Event/Summits and a strong database of Classifieds and more. Visit cynopsis.com.