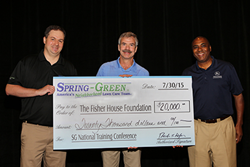 Plainfield, IL (PRWEB) August 26, 2015
Spring-Green Lawn Care held its annual National Training Conference July 29, 2015 – August 1, 2015, at McDonald's University in Oak Brook, Illinois. All Spring-Green franchise owners and support center staff gathered for the event, which was filled with insightful hands-on training and multiple opportunities to network with other owners from the entire Spring-Green franchise system.
Spring-Green's core values—Ecstatic Customer Base, Pursue Common Goals, Innovate to Improve, Do Right, Respect for All, Move Forward—are evident throughout the organization, our vendor partners and at the conference. Attendees were privileged to hear Retired Lt. General Randall L. Rigby speak at the event. Lt. General Rigby is a former artillery officer who was awarded two bronze stars for his combat service in Vietnam. He also served as a West Point instructor and in several key positions within the Pentagon.
Spring-Green's key vendors and suppliers generously donated items that were bid on by the conference attendees. "This is the second conference in a row we've elected to donate silent auction proceeds to the Fisher House Foundation which builds on-site housing at military hospitals to provide lodging for the families of current military members or veterans who are hospitalized," said James Young, Spring-Green president. "When this year's Silent Auction was completed, we had raised a total of $40,000 over the last two conferences for this great cause."
The silent auction benefitting Fisher House Foundation is not the only way that Spring-Green works to help veterans. Spring-Green's military history is evident throughout the franchise organization. The company has multiple veteran-owned franchises and employs hundreds of veterans and reservists through the company-owned and franchise network. Spring-Green's ties to veterans run even deeper, however. Tom Hofer, co-founder of Spring-Green, is a veteran of the Vietnam War, where he served as a Navy pilot conducting anti-submarine missions.
The most recent veteran to join Spring-Green, Travis Snead, purchased his own Spring-Green franchise in Wilmington, North Carolina, and Brunswick County, North Carolina, in 2014. A former Marine, the owner of T and T Lawn and Sweeping Services had more than 14 years of lawn care experience before he started investigating Spring-Green in 2013. Partnering with his father-in-law, Snead knew he wanted a family-focused business and found that Spring-Green offered what he was looking for, as well as much-needed marketing assistance.
"Marketing is where it is at now," Snead said. "If your name and brand aren't out there, people don't have a lot of confidence in you. Spring-Green had prior history in my area, they knew what the area was capable of doing and all the money we spent in marketing was well worth it."
Snead also was very impressed with the emphasis Spring-Green places on customer service, as well as the overall system of support the company provides. "You can tap into the experience of guys who have been doing this for 20 years," he said. "I can call other franchise owners, ask them 'what would you do,' and they will give me the most cost effective way of doing my job. That is just one of the benefits of being a franchisee — you get to tap into other people's knowledge to deliver your customer the best service."
About Spring-Green Lawn Care
Founded in 1977, Plainfield, Illinois-based Spring-Green Lawn Care has been delivering lawn and tree care services nationwide for over 38 years. Its service is centered on the beautification of residential and commercial customers in middle-class and affluent neighborhoods and communities. Spring-Green is an attractive opportunity for entrepreneurs and existing green industry business owners who want to align themselves with a business model that has proven economic resilience, healthy profit margins, industry leading business and marketing intelligence, recurring revenue and retirement and succession planning. For more information, visit http://www.springgreenfranchise.com.
About Fisher House Foundation
Fisher House Foundation is best known for a network of comfort homes where military and veterans' families can stay at no cost while a loved one is receiving treatment. Located at major military and VA medical centers nationwide, Fisher Houses are close to the medical center or hospital they serve. Fisher Houses have up to 21 suites, with private bedrooms and baths. Families share a common kitchen, laundry facilities, a warm dining room and an inviting living room. Fisher House Foundation ensures that there is never a lodging fee. Since inception, the program has saved military and veterans' families an estimated $282 million in out-of-pocket costs for lodging and transportation.
Fisher House Foundation also operates the Hero Miles program, using donated frequent flyer miles to bring family members to the bedside of injured service members, and the Hotels for Heroes program, which uses donated hotel points to allow family members to stay at hotels near medical centers without charge. The Foundation also manages a grant program that supports other military charities and scholarship funds for military children, spouses and children of fallen and disabled veterans.