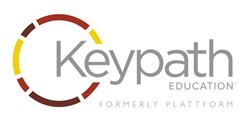 With the Keypath Education name, we make our dedication to education clear and evolve the perception of our company ... - Steve Fireng, CEO of Keypath Education
Kansas City, KS (PRWEB) August 31, 2015
PlattForm, a partner for higher education institutions around the world, will now be known as Keypath Education. The new Keypath Education name directly communicates the company's sole focus on the higher education vertical.
This new name builds on Keypath Education's success working with more than 250 college and university partners, supporting their marketing and enrollment needs over the last 26 years. The name also draws attention to the company's expansion of core service offerings, including:

End-to-end services, such as online program management (OPM), whereby Keypath Education invests capital in partner institutions to launch, grow and optimize academic programs for online, ground and hybrid delivery
Seelio, Keypath Education's proprietary technology for connecting education to enhanced career outcomes
Full-service international locations in both London (Coventry), U.K., and Melbourne, Australia, providing OPM services in those markets
The transition to Keypath Education does not entail a change in leadership, ownership or employment opportunities.
"Changing a company's name after more than 26 years is no easy feat, particularly when you consider how proud we are of our ongoing commitment to higher education," said Steve Fireng, Keypath Education CEO. "We've helped hundreds of institutions within the integrated marketing space, and that foundation allowed us to expand in other ways to adapt to the evolving EDU landscape. However, the PlattForm name limited us in describing our evolution as a true full-service partner for institutions. More importantly, it didn't give our employees an identity that would set us up for future success.
"With the Keypath Education name, we make our dedication to education clear and evolve the perception of our company from strictly an enrollment marketing provider to a full-service partner responsible for delivering sustainable institutional growth through online program management, course development, career preparation and the integrated marketing excellence for which we're known."
Keypath Education, formerly known as PlattForm, has more than 600 employees in offices throughout the world, including Chicago, Toronto, London, Melbourne and its headquarters in Kansas City.
Read more about the name change and the company's offerings. Contact Dale Leatherwood, SVP of Marketing for Keypath Education, at dale.leatherwood(at)keypathedu.com or 205.837.4892 for all press-related inquiries.
About Keypath Education
Keypath Education partners with higher education institutions worldwide to launch programs, grow enrollment, improve learning and connect education to careers, using a proprietary technology suite. The company has helped more than 4,000 higher education institutions better serve students and graduates, resulting in a strong reputation for its education mission and quality in the United States, Canada, the U.K. and Australia. Since its beginning more than 26 years ago, Keypath Education has been dedicated to changing lives through education. Visit keypathedu.com to learn more.