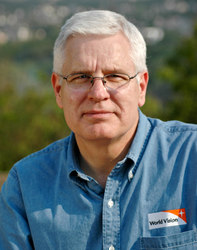 We stand for a better, safer world. We stand for kindness and forgiveness and compassion and mercy.
Wayne, PA (PRWEB) August 25, 2015
BetterWorldians Radio today announced that Richard Stearns, President of World Vision U.S., is a featured guest on the online show and podcast (BetterWorldiansRadio.com). BetterWorldians Radio inspires with the people and ideas that are making the world a better place.
Stearns discussed his role at World Vision, one of the world's largest humanitarian nonprofits, and the work being done to help tackle the causes of poverty and injustice. Stearns highlighted some of World Vision's areas of focus, like child sponsorship, clean water, and disaster relief and spoke about the progress being made in these areas. "In the last 25 years, more people have been lifted out of extreme poverty than any time in the history of the world. It's remarkable," said Stearns.
Stearns also shared the organization's vision for the world. "World Vision, at its best, is showing the world the character of God by the way we live and work," said Stearns. "We stand for a better, safer world. We stand for kindness and forgiveness and compassion and mercy."
BetterWorldians Radio co-host Ray Hansell said, "I was truly inspired to hear of the amazing and important work that World Vision is doing to make it a better world. Rich exemplifies what it means to be a BetterWorldian - he is personally and spiritually committed to solving the world's big problems and also encourages us all to do whatever we can to make a difference."
BetterWorldians Radio has featured guests such as entrepreneur and author Bob Buford, CURE International CEO Dale Brantner, and the founder of Miracle Foundation, Caroline Boudreaux. To access the show and other episodes, go to BetterWorldiansRadio.com.
About Richard Stearns:
Richard Stearns is the President of World Vision U.S., one of the world's largest nonprofit humanitarian organizations. Rich has brought strong leadership and oversight to World Vision U.S. since 1998, when he left his position as CEO of Lenox to follow what he felt as a distinct call from God on his life. Prior to his tenure at Lenox, Stearns was CEO of Parker Brothers Games. He holds a B.A. in neurobiology from Cornell University and an MBA from the Wharton School of the University of Pennsylvania. In 2009, Stearns was appointed to the President's Advisory Council on Faith-Based and Neighborhood Partnerships at the White House. As president of World Vision U.S., Stearns has built a strong leadership team focused on bringing corporate best practices to the nonprofit sector. Stearns is the author of several books, including the award-winning The Hole in Our Gospel and Unfinished. With his wife, Reneé, he has also published a children's Bible storybook and a 90-day devotional. Learn more about World Vision at WorldVision.org.
About BetterWorldians Radio:
BetterWorldians Radio is an online show and podcast available at BetterWorldiansRadio.com. BetterWorldians Radio is hosted by Ray, MarySue and Gregory Hansell, the family team that created the popular game on Facebook, A Better World. This game rewards players for doing good deeds while helping to raise money and awareness for charities. Over 3 million people have performed over 35 million good deeds in A Better World to date. BetterWorldians Radio is produced in Wayne, PA.