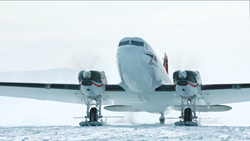 Since we were all born into a world with airplanes, it's hard to imagine that jet travel itself is only 60 years old, just a tick on the timeline of human history
Dearborn, Mich. (PRWEB) August 25, 2015
On September 4 The Henry Ford IMAX Theatre will premiere "Living in the Age of Airplanes," an immersive new giant screen film experience from National Geographic Studios. Narrated by actor and pilot Harrison Ford, it offers a fresh perspective on a modern-day miracle that many of us take for granted: flying. Using spectacular aerial and nature photography, "Living in the Age of Airplanes" takes audiences around the globe on an epic journey to 95 locations in 18 countries spanning all seven continents to remind us how, in a single century, aviation has changed our world forever.
Produced and directed by Brian J. Terwilliger ("One Six Right"), "Living in the Age of Airplanes" features an original score by Academy Award®-winning composer and pilot James Horner ("Avatar," "Titanic") and cinematography by Andrew Waruszewski.
The film highlights the astonishingly rapid advancements that have led to a world in which 100,000 flights take off and land every day. During the vast majority of mankind's existence, walking was the fastest means of travel. Yet today, just 175 years after the introduction of the steam engine, boarding a jet to travel thousands of miles in a matter of hours is more often viewed as an inconvenience than a world-changing technological marvel.
"Since we were all born into a world with airplanes, it's hard to imagine that jet travel itself is only 60 years old, just a tick on the timeline of human history," said producer/director Brian J. Terwilliger. "With this film, we want to reignite people's wonder for one of the most extraordinary aspects of the modern world."
After seeing the movie on Michigan's largest screen, viewers can continue to be inspired by the world of aviation throughout The Henry Ford campus. Inside the Heroes of the Sky exhibit at Henry Ford Museum, guests can learn about more about early aviation or the can journey inside the very workshop where Orville and Wilbur Wright began their dreams of flight at Greenfield Village.
For information on showtimes and tickets or to view the trailer, visit http://www.thehenryford.org/imax.
About The Henry Ford IMAX Theatre
Part of The Henry Ford – America's Greatest History Attraction – The Henry Ford IMAX Theatre opened in 1999 and is Michigan's largest IMAX theatre having the capability to show both 2D and 3D IMAX films. The theatre features Michigan's largest IMAX screen – over six stories tall & eight stories wide, highest seating capacity, and a 12,000-watt 6-channel digital surround sound system. IMAX films are projected via a 15,000-watt xenon arc lamp utilizing 15-perforation/70mm IMAX film stock (ten times larger than conventional 35mm film) which offers the best-possible image reproduction in motion picture projection. With crystal-clear images, 12,000 watts of digital surround sound, and a maximized field-of-view on its gigantic IMAX screen, The Henry Ford IMAX Theatre provides Michigan's most immersive and powerful movie experience – visitors will feel as if they are truly IN the movie they're watching. For film updates and additional information, visit thehenryford.org or connect with us on Facebook at facebook.com/imaxhenryford.
IMAX®, IMAX DMR®, Experience It In IMAX®, and The IMAX Experience® are registered trademarks of IMAX Corporation.
About National Geographic Studios
National Geographic Studios is the video and film production division of the National Geographic Society, one of the world's largest nonprofit scientific and educational organizations, whose mission is to inspire, illuminate and teach. From television series and specials to giant screen, from mobile video to digital news and educational content, National Geographic Studios' productions embody the Society's long-standing reputation for stunning visuals and captivating storytelling. National Geographic Studios has received nearly 150 Emmy Awards and almost 1,000 other industry accolades, including recognition from the Peabody Awards, DuPont Columbia Awards, multiple film and museum industry awards and the highest honors from natural history film festivals. National Geographic Studios also produces and distributes giant screen and digital 3D films for the museum cinema industry. Brooke Runnette is president of National Geographic Studios.
# # #
Contacts:
For The Henry Ford:
Melissa Foster, Media & Film Relations Manager
MelissaF(at)TheHenryFord(dot)org, 313-982-6126
For National Geographic Studios:
Eddie Ward / Roslan & Campion PR
eddie(at)rc-pr(dot)com / 212-966-4600