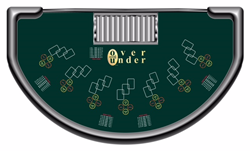 Don Catlin, who provided the statistical report on the game, said, "There is no doubt that Casino Over Under is a simple game that will attract quite a fan base given the familiarity with the concept of the over under."
Tampa, Fl (PRWEB) August 24, 2015
Year after year hundreds of inventors take their shot at possibly becoming the next Derek Webb or Robert Snow. For those that don't know, those two gentlemen may be the two most popular names when it comes to new casino table game inventors. It's the ultimate pipe dream, similar to the one most everyone dreams about at some point in their life. It's that one where the person envisions a brief stroke of brilliance leading to the creation of something that makes the inventor an instant millionaire. Inventing a new Casino game can do just that, but the problem is that it's as likely to happen as lightening striking in the same place twice. Gaming expert Roy Ritner Jr. pointed out: "The competition is fierce. There are literally hundreds of games that have even made it so far as being approved by a commission, yet only a tiny percentage actually make it on to casino floors."
There is no manual or step by step instructions to take a game from an idea to being played in an actual casino. That being said, for years most gaming developers followed a similar path. It goes something like this: Obtain a trademark and patent to protect your intellectual property, have a statistical analysis report created showing the complete mathematical breakdown of the game, get approved by a gaming commission and market it to casinos with little to no real player feedback. For marketing, most inventors will spend on average over $25,000 to attend the annual gaming expo to promote their product for a few days and even with the high price of admission, there are no guarantees that the invention will even be noticed, as there are hundreds of exhibitors showcasing their products. On average inventors are looking at an overall investment of $150,000 from start to finish. Further, if an inventor is a small outfit, it is particularly difficult as there are a few main players that are industry monsters with the money and connections to give them an undeniable upper hand.
Casino Over Under, LLC. has found the solution. Compared to the long, hard, and daunting task of getting a new game into a casino as explained above, the path to get a game into the mobile app stores is a walk in the park. Of course, having a mobile version of a game doesn't guarantee it will be picked up by a casino, but it will allow an inventor to get feedback and visibility that casinos look for from their target audience. This feedback is very important to determine if a game will have the following that is needed to succeed in the casinos. Arguably, it can easily be considered the most important of all the factors in the process of making a game a hit. For the few new games that actually make their way to the casino floor that don't follow the mobile path, their inventors are left guessing how the players will respond as opposed to having critical feedback in advance. Having a mobile version of a game not only helps with the visibility to potential players, it also gives a platform to have casino personnel try a game without even setting foot in their casino.
Casino Over Under was released in the Apple App Store in May 1st and has already been downloaded thousands of times and played in over 50 countries from all over the world. The app has over 75,000 loyal followers on Twitter and more followers are adding to that figure every day. The game is simple, fast and very addictive. Click here to play.
Recently, Casino Over Under received a 4.5 out of 5 star review from Apps400.com and a 4.3 out of 5 star review from AppsThunder.com. Overall, they've had five independent reviews that deemed the game highly addictive. The response has been so positive that the owners have now elected to move up their scheduled plans, and will be moving forward to get their game in casinos in the very near future as opposed to the end of next year.
It's clear the mobile app route offers an alternate approach for game developers that could provide the needed following to take it to the next step. Perhaps there will now be others that follow this path. There is no question that it is a long shot to get a game into a casino, but it could turn into a potential gold mine. As history would have it, just a few years ago in 2012, IGT purchased the Double Down Casino for $500,000,000. That's right, $500,000,000.
To learn more about Casino Over Under, visit http://casinooverunder.com.