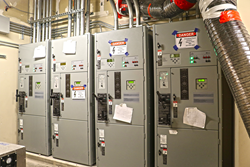 The 24/7 hospital was fully-operational during the renovation work.
Fort Collins, CO (PRWEB) August 23, 2015
Working with an aggressive schedule, Adolfson & Peterson Construction (A&P) completed a complex electrical upgrade project for UCHealth's Poudre Valley Hospital in Fort Collins, Colorado.
The project required updating the hospital's electrical systems on multiple floors and renovating existing office spaces to accommodate a new electrical room. During the proposal process, A&P partnered with Intermountain Electric, Inc to provide expert electrical services for this sensitive project.
The 24/7 hospital was fully-operational during the renovation work. A&P coordinated closely with PVH and the design team to schedule outages and sequence construction during the renovation to ensure the areas served by the current electrical distribution gear experienced minimal outages.
In order to meet state compliance and provide the hospital with first-rate functionality for their hospital services, the project was completed in 5 months. The team performed BIM services in the electrical spaces to prefabricate items which allowed for reduction in schedule durations. In addition, new air-handling units and new fan arrays were installed so future maintenance won't require any shut-downs.
About Adolfson & Peterson Construction
Adolfson & Peterson Construction is a U.S.-based, privately held builder that is consistently ranked among the top 50 construction managers and general contractors in the nation. Headquartered in Minneapolis, Minnesota, the company delivers innovative and collaborative building solutions for clients across the country from its regional offices in Charlotte, Dallas, Denver, Los Angeles, Minneapolis, Phoenix, Portland and Tacoma. Founded in 1946, A&P serves clients in the education, healthcare, commercial, municipal, multifamily, hospitality and senior living market sectors. For more information, visit http://www.a-p.com or follow us on Facebook, LinkedIn and Twitter.
###