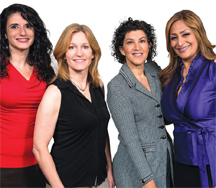 This study helps to point out the particular importance fitness and exercise can play for women over 50, something we routinely discuss with our patients ..." Lela Emad M.D.
Santa Rosa, CA (PRWEB) August 23, 2015
A University of Pittsburgh Graduate School of Public Health study has shown that late-stage and post-menopausal women may have significantly greater volumes of fat accumulationed around their hearts, increasing the risk factor for heart diseases. "Some patients are surprised to learn that heart disease is the number one killer of women," says Women's OB/GYN Medical Group Obstetrician & Gynecologist Lela Emad, M.D."Heart disease takes far more lives each year than both breast cancer and cervical cancer combined. We have long understood that the risk factors only increase after the age of 50. This study helps to highlight exactly why this may be the case."
The Pittsburg Graduate School study, which will appear in the Sept. 1 issue of The Journal of Clinical Endocrinology & Metabolism, says the increased incident of fat around the heart in menopausal women is attributable to changing hormone levels - a discovery that may help to guide potentially life-saving interventions going forward.
The study specifically revealed that as concentrations of the sex hormone estradiol (a type of estrogen) declined during menopause, greater volumes of corresponding cardiovascular fat were discovered. "Regardless of age and fitness level, women should be taking measures in everyday life to maximize heart health," says Dr. Emad. "But this study helps to point out the particular importance fitness and exercise can play for women over 50, something we routinely discuss with our patients."
Menopause and Weight Gain
Weight gain in women during and after menopause has long been associated with the aging process, but until now, menopause hasn't been shown to be the smoking gun in this process. This study, and others like it, is helping to identify how changes in body fat composition can affect the distribution of fat due to menopause-related hormonal fluctuations. Increased and excess fat around the heart can lead to localized inflammation, which is even more damaging than abdominal fat, as it leads to heart disease and a more than 50 percent increase in coronary events.
In another study recently highlighted in JAMA Oncology, exercising 300 minutes per week (about 45 minutes per day) was shown to be the best tactic to take for reducing total fat in postmenopausal women. Weight gain is common after menopause but as many as 30 percent of women ages 50 to 59 are not just overweight, they are obese. The loss of estrogen has long been thought to cause the body to use starches and blood sugar less effectively, which may indeed increase fat storage and make it harder for women of a menopausal age to lose weight. Adopting a more active lifestyle is the best form of prevention.
Aerobic exercise is most frequently recommended for weight loss and prevention, and may be the key in helping women to get back to a healthy weight, as well as maintaining optimal levels over time. Types of aerobic exercise commonly recommended for heart health include:

walking
jogging
swimming
cycling
aerobic dance
The benefits of aerobic exercise are readily evident as a National Institutes of Health review revealed that people who took part in aerobic activities every day for a minimum of 10 minutes had as many as six fewer inches around the waistline, compared to people who didn't exercise at all. A regular routine of aerobic activity can help lower the risk of many menopausal symptoms including osteoporosis, breast (and other types of) cancer as well as provide relief of depression and anxiety.
"Lifestyle changes such as exercising, dieting, quitting smoking and cutting back on caffeine are all examples of the most effective ways to maintain a healthy heart," says Dr. Emad. "Fitness is a factor for women of all ages, and even more significant for those entering menopause."
About Women's OBGYN Medical Group
The provider team of expert OB/GYN physicians, certified nurse midwives, family nurse practitioners, and medical assistants provides unmatched care to patients in our region. As women proudly serving women, we understand the needs and expectations of our patients. For more information call (707) 579-1102 or visit our website.