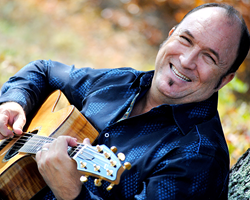 Inspiring video promoting family values and healthy relationships!
Charlottesville, VA (PRWEB) August 22, 2015
New family values video released today – (Charlottesville) companies collaborate to promote family values and lasting relationships, supporting charity along the way
Performing songwriter John Tracy teamed up with Charlottesville video production company Hoopla Media to create a new music video released today at http://www.johntracymusic.com/videos. John Tracy writes real music for people living real life and hopes this video promotes a message of healthy, lasting relationships which leave a positive legacy behind.
John is proud that his art supports Donate Life, a Richmond-based 501(c)3 not-for-profit alliance of national organizations and state teams across the United States committed to increasing organ, eye, and tissue donation. He donates twenty-five percent of the proceeds from his music sales to aid Donate Life in these efforts. As a registered donor himself, having lost his mentor to a liver disease before a suitable donor could be found, he is committed to helping Donate Life increase the national registry for organ, tissue and eye donors.
He is excited to announce the release of his latest music video "Happy Ever After" (based on the original song from his latest album "I've Got To Find Myself"). The video is available for viewing on his website at http://www.johntracymusic.com/videos and across multiple social media outlets. In a time where more than half of all marriages end in divorce, breaking up families and shattering lives, he wanted this song and video to be a living testament that love can last "through the tears and laughter."
John partnered with Sam Kempf of Hoopla Media, who used the song as his script to tell the story of a couple whose marriage stood the test of 65 years. The video recreates the joy of their love throughout scenes shot on locations in and around Charlottesville, Louisa and the Blue Ridge Parkway. Hoopla Media engaged Skyclad AP, a local aerial drone operator and Valley Films from Harrisonburg to aid in the filming and production to give the video power and impact. The Louisa Art Center and NBC29 WVIR News graciously provided their facilities in the filming process, adding to the power and authenticity of the story.
To say that John Tracy creates real music for people living real life might not quite sum up his original songs written with the purpose and passion to help us leave positive lasting legacies. His introspective songs of life, love and family resonate deeply within our souls. His expertise on acoustic guitar allows him to compose interesting and intricate melodies that move our feet and make our spirits lighter. John has spent hours since the age of sixteen perfecting his skill on the acoustic guitar, studying songwriting from some of the industry's best and pouring his expertise as a lyricist into each word. His songs have a resounding impact on audiences.