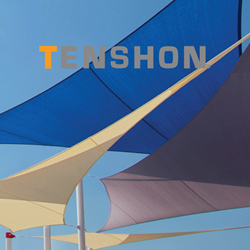 We know we have a winner when a concept jumps out at us and we want to go out and build it.
Mesa, AZ (PRWEB) August 24, 2015
Tenshon, an Arizona based manufacturer of shade sails, promotes innovation in design. This is accomplished, in part, through a bi-annual scholarship competition. Participation is open to current students of architecture, engineering and design. Students are challenged to use the skills they are learning in the classroom in real world applications.
"It's one thing to be able to study what others have done in the past, or even regurgitate information. It's altogether different and more challenging to take classroom learning and apply it to real-life situations," said Matthew Dickerson, president of Tenshon. "Actually designing something that is functional, beautiful and marketable is deceptively difficult."
Designs are limited to the 11 standard sails sold in Tenshon's online store. Each standard sail is available in 15 colors. At least two sails must be used, but there is no limit on the maximum number of sails that can be incorporated.
"We look for ideas that are new and exciting. We're not looking for perfection but for ideas that challenge conventional thinking. We love being surprised when great ideas catch us off guard," said Brandon Burnham, Tenshon's vice president of marketing and design.
Students submitted entries right up to the July 15th deadline with designs pouring in from all over the country. Each design was evaluated based on its creative approach to using membrane structures to create shade for outdoor living spaces. But creativity isn't enough. The ideas have to be practical and financially viable, not just look good on paper. Beyond that, students' designs are expected to enhance their selected location, based on climate, geography and intended use.
"We know we have a winner when a concept jumps out at us and we want to go out and build it," said Nathaniel Allen, a member of the scholarship committee.
The winner and runner up for fall of 2015, showcase the forward thinking that Tenshon looks for in finalists.
Winner: James Hansen, Utah State University
James' beautiful design would be ideal for outdoor spaces at university campuses, commercial centers, or corporate offices where open interaction is desired.
Runner up: Sida Tang, Yale University
Sida's design explores the use of shade sails outside the scope of only providing shade. Shades seamlessly transition into partitions that transform a large space into multiple individual spaces.
Tenshon has supported education and creativity since 2013 when the scholarship was first offered. Winning designs have been varied in style and execution. What they have in common is beauty and a unique take on how to deliver shade.