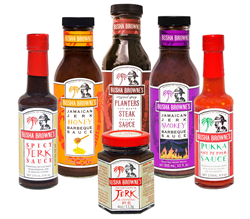 NEW YORK, NY (PRWEB) August 24, 2015
Busha Browne known for their delicious, Award-winning condiments and sauces are growing in demand in the condiment market and with consumers across the U.S. and abroad including with countries such as the United Kingdom (UK), Australia and New Zealand.
Busha Browne condiments, jellies and sauces continue to be a top choice at restaurants and at home. Busha Browne is famous worldwide and continues to grow in popularity for their high quality, all-natural, flavorful products. Consumers have become more food adventurous and desiring better-for-you options, spicy flavor varieties and simply to add a new flavor to food. Busha Browne has been bringing enjoyment and flavor to mealtimes for generations and continues to do so in 2015 with their go-to condiments, jellies and sauces. Busha Browne creates a genuine mealtime experience with their Jamaican sauces, jellies and condiments that pairs well with fish, steak, chicken and vegetarian dishes.
Busha Browne products are featured in media and are available at specialty food stores and retailers such as Whole Foods, Fairway and online. For more information, visit http://www.BushaBrowne.com.
About Busha Browne
Associated Manufactures Ltd. is proud to be the manufacturer of Busha Browne sauces, jellies and condiments and manufactures the products to the entire food industry from retail outlets, food manufactures and foodservice businesses. Busha Browne authentic sauces, jellies, and condiments provide the great variety of exotic fresh Jamaican fruits, vegetables and spices. Their gourmet products are all natural, full of flavor and are delicious. Prepared and bottled in small batches as they were 200 years ago, these award-winning artisanal products reflect the authentic heritage of Jamaican cookery. Busha Browne provides superior quality and for all eating occasions at home and at restaurants. Busha Browne is headquartered in Jamaica and their products are sold globally. Busha Browne has captured the attention of national and international media and a culinary clientele. For more information on Busha Browne and its products, visit http://www.BushaBrowne.com and Facebook via facebook.com/BushaBrowne and Twitter via twitter.com/BushaBrowne.
Contact:
Tamara York
Tamara York Public Relations
tamara(at)tamarayorkpr(dot)com
# # #