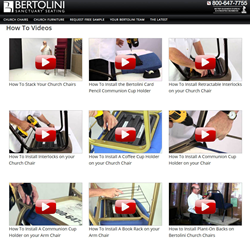 Chino, CA (PRWEB) August 21, 2015
Bertolini Sanctuary® Seating strives to provide their loyal and potential customers with tools that they can utilize to assist them. Bertolini's commitment of 100% customer satisfaction and building relationships goes beyond building church chairs with catering to their customer's needs and lifestyle. With that in mind, Bertolini has created and organize How To Videos. Located on their website http://www.sanctuaryseating.com a customer can quickly access a how to video at their convenience when needed. If more then one person is needed for the task, it is also a great way to present the video without a hassle.
The How To Videos show the customers quick and easy step by step instructions on how to add every aftermarket accessories offered such as card pockets, bookracks and pew interlocks to their existing Bertolini church chairs. They also provide how to videos on how to properly stack church chairs , replace a fully upholstered back, and install booted rocker glides, to name a few. Bertolini gives the customer an opportunity to visualize the how to task in simple step-by-step instructions from start to finish. Bertolini Sanctuary® Seating is scheduled to release more videos throughout the year with their very own Quality Assurance Manager, Robert Pry.
Robert Pry is the perfect candidate for Bertolini Sanctuary® Seating's "how to guy". He draws 20 years of Leadership and Quality experience and remains passionate about his role in supporting the outstanding quality and growth at Bertolini, Inc. Robert began his career with Bertolini Inc. in April of 1999 and moved up through the ranks . In January of 2006 Robert was promoted to the position of Quality Assurance Manager that he currently holds.
Bertolini Sanctuary® Seating is a design leader in the use of ergonomically correct chair design and its Flex fit seat design technology for churches. Their chairs are light and strong. Their expertise in the manufacture of quality stackable seating and commitment to superior customer service wins the appreciation of congregations worldwide. To find out more, visit http://www.sanctuaryseating.com.