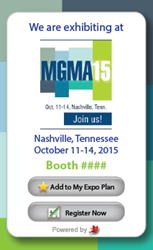 Columbia, MD (PRWEB) August 24, 2015
a2z, Inc., the Maryland-based event management solutions company, is pleased to announce that the Medical Group Management Association (MGMA) will offer the Chirp-E Powered eBooth Promotion Widget to exhibitors at the MGMA 2015 Annual conference in Nashville, TN.
The eBooth Promotion Widget is a dynamic plug-and-play utility available to MGMA exhibitors through their online eBooth console. Exhibitors can embed the widget anywhere on their website, blog, or e-newsletter by copying and pasting a small block of code making it one of the easiest and most effective ways of engaging prospective business leads and showcasing their attendance at the event.
In addition, exhibitors who leverage the widget are able to access detailed ROI reports which provide a series of key metrics to help gauge their eBooth success. Exhibitors are able to track known and unknown visitors who have viewed the widget on their website, and receive crucial contact information from registered attendees who have viewed their online eBooth. By utilizing the eBooth Promotion Widget, exhibitors can build relationships with potential leads prior to the MGMA 2015 Annual conference.
Web visitors can also add exhibitors as favorites to their expo plans and register the event from the widget with the single click of a button, increasing the likelihood of exhibitor-to-attendee interactions later on the show floor. By utilizing the eBooth Promotion Widget before MGMA 2015 Annual Conference, exhibitors are able to take an active role in increasing their ROI and acquiring potential buyer leads before the show opens it's doors.
The MGMA 2015 Annual Conference will take place October 11th – 14th in Nashville, TN. This four-day event attracts a global audience of medical group practice management showcasing the latest products, solutions, and innovations across the industry. The event offers attendees unparalleled networking opportunities and educational sessions designed to enrich professional development. For more information, click here to visit the conference registration page.
About a2z
a2z, Inc. provides powerful web-based event management tools that grow your show by increasing and accelerating booth sales, helping boost revenue, and enhancing engagement and value for everyone. a2z, Inc. powers more than 850 leading events every year. Our clients benefit from increased connectivity with their audience via an improved website for their attendees and exhibitors and both web-based and native mobile app solutions. a2z offers three platforms as one integrated solution: Expo & Conference Management, Networking & Lead Management, and ChirpE Mobile- which includes our web-based and native mobile apps for smart phone and tablet device.
About MGMA
MGMA is the leading association for medical practice administrators and healthcare executives. For over 90 years, MGMA has been committed to providing the essential education, legislative information, and data and career resources to help improve patient services and operational efficiencies.