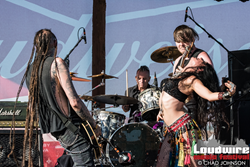 Vajra is a "must-see act" - Rolling Stone Magazine
New York. NY (PRWEB) August 22, 2015
Alt/Prog rockers Vajra move into the Top 10 again for a 4th week with their new single "Inside The Flame (Rapid Oxidation Mix)" on the Loudwire Battle Royale Video Countdown. The Countdown highlights the Top 10 Rock + Metal videos of the week on Loudwire as determined by fan votes.
Rolling Stone Magazine named Vajra a "Must-See Act" at the Loudwire Music Festival, and true to form, Vajra delivered a killer set, hypnotizing and mesmerizing their audience.
AXS Magazine named Vajra one of the "Most Underrated Bands."
Their single is currently in rotation at: KGRR/Dubuque, KTED/Casper, KAZY/Cheyenne, KROW/Cody, Radio 106, Rock Rage Radio, KEYJ/Abilene, KJML/Joplin, KFML/Little Falls, KHAD/Upton, KXPZ/Las Cruces, Rocket Online, WECL/Eau Claire, KMZK/Grand Junction, KQDI/Great Falls in addition to a host of internet radio stations.
The band is currently in the studio working on their follow-up to their debut album 'Pleroma."
For more about Vajra, see: http://www.thevajratemple.com.