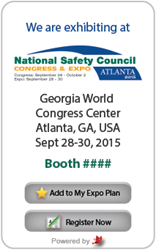 Columbia, MD (PRWEB) August 24, 2015
a2z, Inc., the Maryland-based event management solutions company, is pleased to announce that the National Safety Council (NSC) will be utilizing a suite of Chirp-E solutions including the eBooth Promotion Widget to help boost exhibitor efficiency at the 2015 NSC Congress & Expo.
This annual event brings safety, health, and environmental professionals together in an atmosphere that promotes personal and professional growth. This year, the event takes place September 26th through October 2nd in Atlanta GA.
The eBooth Promotion Widget is a powerful plug-and-play utility available to all exhibitors through their online eBooth. Thanks to the dynamic features of the widget, exhibitors can embed it anywhere on their website, blog, or e-newsletter by simply copy and pasting a small block of code – no design experience necessary. Exhibitors who leverage the widget are able to access detailed ROI reports including known and unknown web visitors who have viewed the widget.
In addition, web visitors can add exhibitors as favorites to their expo plans and register the event from the widget with a single click, increasing the likelihood of exhibitor-to-attendee interactions later on the show floor. By utilizing the eBooth Promotion Widget before the NSC Congress & Expo, exhibitors can take an active role in increasing their ROI and acquiring potential buyer leads before the show begins.
About a2z
a2z, Inc. provides powerful web-based event management tools that grow your show by increasing and accelerating booth sales, helping boost revenue, and enhancing engagement and value for everyone. a2z, Inc. powers more than 850 leading events every year. Our clients benefit from increased connectivity with their audience via an improved website for their attendees and exhibitors and both web-based and native mobile app solutions. a2z offers three platforms as one integrated solution: Expo & Conference Management, Networking & Lead Management, and ChirpE Mobile- which includes our web-based and native mobile apps for smart phone and tablet device.
About NSC
The National Safety Council is a nonprofit organization with the mission to save lives by preventing injuries and deaths at work, in homes and communities, and on the road through leadership, research, education and advocacy. For over 100 years, NSC has been advancing this goal by engaging businesses, government agencies, elected officials, and the general public to help prevent the 5th leading cause of death in the U.S.- Unintentional injuries.