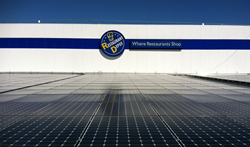 (PRWEB) August 24, 2015
Ross Solar Group, a Connecticut based residential and commercial solar installer, is happy to announce its ranking of #178 in Solar Power Worlds Top 500 solar contractors in North America. Ross Solar was the highest ranked Solar Connecticut based solar company. Over the past eight years, Ross Solar Group has installed over 16.5mW of solar energy throughout the Northeast for both homeowners, municipalities and businesses.
Ross Solar Group has completed commercial installations for Bed Bath and Beyond, Walmart, Pfizer and Jetro. Ross Solar Group has also completed municipal solar installations for the towns of Stamford, Stafford, Ashford, Westport, West Haven and Weston.
Ross Solar Group, a family owned and operated solar design and installation company, was founded in 2007. Ross Solar Group was named the Sunpower Commercial Dealer of the year in 2011 and has installed over 1500 commercial, residential and municipal solar electric systems in New York, New Jersey, Connecticut and Massachusetts. For more information: 203-512-4500 or http://www.RossSolarGroup.com