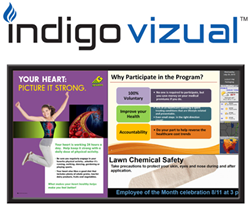 "This is a tremendous achievement for our company. The response to the Indigo Vizual system has been amazing." Founder and President of RCI-Safe Solutions Jack Edgington
DALLAS, TX (PRWEB) October 01, 2015
RCI-Safe Solutions, a nationally recognized leader in workplace communication launched Indigo Vizual, the next evolution in its already popular Digital Engagement System at the 2015 ASSE National Conference.
During the country's most influential safety conference, RCI-Safe Solutions shared the new most powerful digital signage platform in the industry.
"This is a tremendous achievement for our company" stated RCI-Safe Solutions President Jack Edgington. "The response to the Indigo Vizual system has been amazing ... I can't tell you how excited we are to have received so much interest and positive feedback." added Edgington.
Doug Clark, Director of Global EHS of H.B. Fuller states, "We feel that Indigo Vizual is a great communication tool for not only EHS but HR as well. We use one page EHS alerts to communicate incidents to management ... those same alerts are uploaded at the same time to the Indigo system and are immediately displayed at every plant across the country. The product is visually stimulating and feedback throughout the company has been very positive."
Mike Povendo, Vice President of Loss Prevention and Safety for Sally Beauty Company offers, "We implemented the use of Indigo Vizual two years ago in our 13 replenishment facilities throughout North America. Our associates appreciate the timely information regarding safety, weather and personal recognition for birthdays, anniversaries and days safe. We have included information from various other departments such as benefits, payroll, and employee assistance into the daily feeds ... all with enthusiastic responses. Best of all you don't have to be a "rocket scientist" to operate the system. We constantly look foward to the upcoming innovations in this system; recognizing the value that it provides in improved safety and awareness throughout our working environment."
For more information on Indigo Vizual, visit http://www.IndigoVizual.com