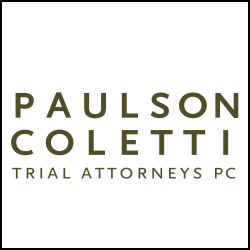 Portland, Oregon (PRWEB) August 24, 2015
Attorneys at Paulson Coletti have been chosen for the Best Lawyers list of 2016. Jane Paulson, John Coletti, and Charles Paulson have all been honored for their distinguished work in trial law. This is an accolade that usually only five percent of the state's attorneys receive.
One of the firm's founding members, Charles Paulson has been selected for the Best Lawyers list since its inception in 1983. He was given the Lawyer of the Year Award in 2014 in the medical malpractice area, specifically representing the plaintiffs. Mr. Paulson specializes in medical malpractice law and personal litigation-plaintiffs.
Jane Paulson was also listed in Best Lawyers for "medical malpractice law- plaintiff" and "personal injury litigation- plaintiff." Ms. Paulson has been on the Best Lawyers since 2006. Not only that, but she was also named one of Oregon's Top 10 Women Super Lawyers in 2015. Her areas of expertise include medical malpractice and personal injury litigation.
John Coletti was also included in the Best Lawyers listing. He has been on the list since 2006. Mr. Coletti was awarded Lawyer of the Year in both 2012 and 2015. He specializes in medical malpractice and product liability litigation- plaintiff.
The Best Lawyers list is published every year and has been since 1983. They are regionally, nationally, and internationally recognized. Every year lawyers are nominated to be included on the list. After the initial nominations, the lawyers' peers evaluate and select the individuals based on merit. This year, Best Lawyers received 6.7 million votes where only 55,000 lawyers were selected. Lawyers cannot pay to be listed, which is why selection is such an honor.
Paulson Coletti is a firm of trial attorneys dedicated to helping those who have been harmed by negligence and wrongdoing. They represent clients in both Oregon and Washington. They handle primarily medical malpractice, personal injury, and product liability cases and have won many multi-million dollar verdicts and settlements. To find out more, visit: http://www.paulsoncoletti.com