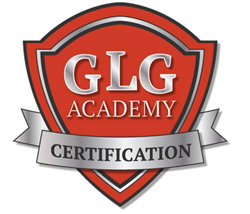 "Without strategy, change is merely substitution, not evolution," Glenn Llopis
Irvine, California (PRWEB) August 24, 2015
Glenn Llopis Group (GLG) is announcing the launch of GLG Academy for 21st Century Leadership, featuring a dedicated online learning portal and newly-updated training curriculum, certification and corporate plans, advanced reporting tools, and more. Central to the Academy is its proven talent development curriculum designed for the ongoing advancement of high-potential career professionals, with certification for students who complete designated courses built around a three-step methodology curriculum framework.
"Without strategy, change is merely substitution, not evolution," says Glenn Llopis, founder of the Academy. "The premise behind GLG Academy is to serve as an interactive learning and development tool to better prepare corporations for the constant changes in the workplace and marketplace that demand better decision-making, speed in execution, seeing and seizing previously unseen opportunities, and other leadership mindset shifts. We have converted our learning content that we have been teaching in live, classroom environments into interactive video-based training that users can readily access as well as measure and track their progress through an automated training performance dashboard."
A sampling of some of the many course titles offered by the Academy include: The 4 Opportunity Mastery Skills; The 6 Characteristics of the 21st Century Leader; Define and Manage Your Personal Brand; Influence Others and Their Success; The Power of Executive Presence ; Define Your Leadership Legacy; Sustain a High-Performance Mentality; How LinkedIn, Facebook & Twitter Have Changed the ROI of Leadership; Find Mentors and Make It Work and Case Study Profiles from companies such as Amazon and Google.
In direct response to the rapid shifts in the workplace and the marketplace – which are telling us that it's no longer about the business defining the individual, but about the individual defining the business – Glenn Llopis Group Academy certification puts high-potential employees on the leadership fast track by helping them tap into their innate skills, powerful sources of strength that often lie dormant when people haven't learned to be their authentic selves at work or haven't learned to value the diversity of thought in others.
"GLG Academy content has been proven time and again to help employees acquire the skills and develop the characteristics required of 21st century leaders; to define and manage their personal brands so that they translate into success in today's new workplace and marketplace," says Annette Prieto Llopis, VP of Client Relations. "This curriculum has helped thousands of participants across hundreds of Fortune 1000 companies who have chosen to invest in their future, unlock their greater potential, and get certified by the Academy – gaining and sustaining competitive advantage in the process."
At the Academy, bestselling author and former C-suite executive Glenn Llopis – who was recognized in 2014 as a top 20 influential writer at Forbes and a top 100 leadership speaker and business thinker by Inc. Magazine – provides 21st century leadership, personal branding and career advancement training through an interactive virtual experience based on the following three-step methodology / "4-6-4" framework: mastering the four skills to becoming an Opportunity Expert: seeing, sowing, growing and sharing opportunities (step 1); developing the innate six characteristics of the 21st century leader (step 2); and answering the four questions that define one's personal brand as a leader (step 3).
"The original professional development content, design, framework, curriculum and learning engagement tools provided by GLG Academy will enable companies to create competitive advantage in the recruitment, development and advancement of top talent as they move into leadership positions of influence," explains Llopis. "In fact, the Academy puts corporations on a track to become "best place to work" academy companies, by supporting the highest industry standards and best practices for talent development and leadership advancement – that include enabling the natural ways that people think, act and are motivated to perform at work."
For companies interested in enterprise-wide training, GLG Academy offers corporate engagement plans with special volume-based pricing. Corporate plans feature extended and advanced reporting tools to help department managers closely monitor and measure content engagement and retention, and to hold training participants accountable for completing course material.
Glenn Llopis Group Academy also features bonus content and career advancement tools focused on mentoring, networking and executive presence. A six-month Certification Subscription, which is being offered at a special introductory price of $299 per user, provides 24/7 online access to the Academy's nationally-recognized and award-winning content.
For more information about GLG Academy and the certification program, please contact Sandy Sickler at sandy(at)glennllopisgroup.com or via phone at 949-842-6204.