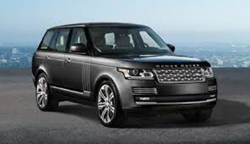 Jamaica, New York (PRWEB) August 24, 2015
When it comes to Airport Parking; JFK Parking Pass certainly deserves a commendable mention. The staff at JFK Parking Pass has more than 20 years of experience and the parking lot offers the kind of security that puts customers at ease when leaving their vehicles behind while on travel.
Currently, JFK Parking Pass is offering customers who log on to their website the opportunity to purchase a $300 pass for only $150. Customers can also save $5 on any regular purchase when they like the page on Facebook.
To make matters even more exciting, there is an ongoing contest wherein the 1,000th customer to purchase the pass from the website, will win a Range Rover. This has certainly built excitement among customers.
JFK Parking Pass is known for offering the most secure parking services around as they have a security team patrolling the lot 24 hours a day. Apart from this, there is also the luxury of a free shuttle to and from the airport and valet service which makes them a preferred choice.
When opting for long term airport parking, this deal is sure to turn out to be both handy and economical. One can gain access to some of the most convenient services when traveling and take advantage on a great way to save money, especially for those who are quite frequent at JFK Airport.
The lack of parking facilities can be a major hassle for travelers, and with this incredible offer, JFK Parking Pass is sure to see a major hike in the number of people who would be availing their parking pass.
One of the key spokesmen at JFK Parking Pass was quoted as saying, "We want to encourage people to buy parking passes and we have come up with this amazing offer to increase the total sales. We are pretty sure that this offer is going to attract a lot of people because JFK is one of the busiest airports and it is important to ensure safety with parking facilities."
The addition of a Range Rover as a jackpot prize seems to be a strategic marketing move which is likely to pay off. To know more about the kind of exciting and reliable parking services available and details of the ongoing promotion, one can visit http://www.jfkparkingpass.com/.
About JFK Parking Pass:
JFK Parking Pass has been in this line of business for more than two decades and has a phenomenal track record and experience. The parking lot is located in Jamaica, Queens, just under four miles from JFK Airport. They have exceptional services which include 24 hour security and free shuttle service to and from the airport.
Contact Information
Address: 87-35 130th Street, Jamaica, NY 11418
Contact Number: (888) 512-0301
Email: TheJFKParkingPass(at)gmail(dot)com
Business Hours: 24 hours a day, 7 days a week
Website: http://www.jfkparkingpass.com/