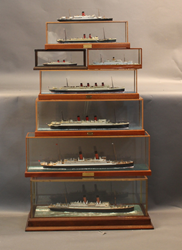 Boston, Massachusetts (PRWEB) August 24, 2015
Trump Tower designer, Der Scutt, was a voracious ocean liner collector. Boston Harbor Auctions has procured a towering collection of ocean liner memorabilia and amassed by the late Der Scutt, architect and designer of many important New York buildings, most notably 5th Avenue's Trump Tower.
"Largest Ship in the World!", "Fastest Ship Ever Built!", "Most Luxurious Ship!", "The Unsinkable!"
Based primarily on the competitive spirit, the cruise line and steam ship companies, throughout the US and Europe, exhausted their resources building ships that transported mail, troops, supplies, cargo yet primarily passengers looking to emigrate or those, if they could afford it, engaging in the vocation of pleasure. When Cunard announced that their new ship RMS Aquitaina would be longer by one foot, Hamburg's "S.S. Imperator" was fitted with a bronze eagle figurehead and would surpass the length overall of the Cunard ship. Grand liners, such as Andrea Doria, Acquitania, Ile de France, Normandie, Caronia, ("The Green Goddess"), represented by Cunard, White Star, Compagnie Generale Transatlantique (French Lines), Italian Lines, United States Lines, Holland-America, Hamburg America, Inman, and others, were of significant use throughout the first half of the 20th century and facilitated the social, political and economic growth of several European countries and U.S. States.
Which ever ship achieved excellence in the fastest TransAtlantic crossings, given their size and passenger capacity, would received the prestigious Blue Riband award. Achieving such meant instant notoriety for the Liner and great success for the operating company. Details of Blue Riband winners Mauritania, Lusitania, Bremen and the S.S. United States, she remains the possessor of the accolade since 1952, are revealed in photographs and binders full of advertising materials and deck plans. A collection of beer & wine from the wreck of the 1909 sunk White Star Liner, RMS Republic where she remains off the coast of Nantucket, after having been struck by the SS Florida, 39 languid hours before capsizing. Exquisite depictions of the ocean liner era are embodied in Bassett-Lowke, Wagner, Boucher & Lindsay ship models.
In addition to the ocean liner collection of models, several architectural models of Der Scutt's will be auctioned including a stunning model of Trump Tower; the model stood proudly in
Der Scutts offices since the tower was built.
The Der Scutt Collection is a grand compilation and near-complete illustration of a great number concerning the most important ocean liners to cross the Atlantic and the cruise lines that introduced them to the World.
The two-day auction will also feature an oil painting of the yacht "Stranger" by Elijah Taylor Baker. "Stranger" was the sister ship to J.Pierpont Morgan's yacht "Corsair". Another fantastic large oil by Michael Keane showing an America's Cup race. Other paintings by T. Willis, William Clark and P.J. Clays are on offer along with rare, framed nautical charts and yacht blueprints from the 1930s. Nautical artifacts include telegraphs, binnacles, dozens of unique ship's lanterns, lighthouse beacons, telescopes, battleship binoculars, starter cannons, et al with furniture items that include camphor wood campaign chests and porthole tables.