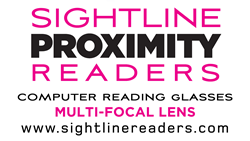 I was tired of wearing reading glasses on the top of my head, tip of my nose, and bobbing my head to use readers. I knew there had to be a better solution.
Chicago, Illinois (PRWEB) August 27, 2015
Continental Optical a sixty year old company specializing in the optical industry announces its new SightLine Proximity Computer Reading Glasses. With patented, multifocal lenses, SightLine Readers instantly improve upon traditional drug store reading glasses. SightLine lenses are engineered with variable magnification levels so whether reading, writing, computing or talking face-to-face, the proper level of magnification is provided. Prices range from $29 to $74 and are sold on-line, in optical shops, and on Amazon. Video Demonstration.
"Tens of Millions of Americans are Presbyopes and require reading glasses. We are excited to provide this growing population a new experience in reading glasses. SightLine's multifocal lenses improve near vision tasks, not just reading," says Alvin Benz, CEO of Continental Optical. "Most of us are all too familiar with the daily dance of toggling glasses from the end of our nose to the top of the head, now there's a solution
-- SightLine Proximityreading glasses."
In designing SightLine Readers, Continental Optical set its sights on addressing the needs of people with Presbyopia, a common condition that happens when we age. Traditional reading glasses provide adequate lens magnification for a single task, such as reading, but are limited to magnify at 18-24 inches away. This is insufficient for anyone using computers, tablets or digital devices. SightLine Proximity Computer Readers improve upon regular reading glasses because the multifocal lens has a much larger area of clear vision versus traditional reading glasses. Users report high levels of satisfaction, including overall better eyesight at ranges greater than with typical reading glasses. With better eyesight comes better work posture, improved ergonomics, lessened eyestrain, and relief from eye fatigue and computer vision syndrome.
"Seeing is believing: SightLine Computer Reading Glasses are an innovative product available at an affordable price. By creating an effective multifocal lens design, which consumers could previously only obtain through an eye doctor, we're improving people's vision and quality of life," says Bruce Malter, President of Sightline Proximity Readers.
SightLine is a product of Continental Optical, a sixty year old company based in Chicago, Illinois. Continental Optical sells a complete line of ophthalmic eyeglass frames, reading glasses and sunglasses to optical professionals throughout the United States. http://www.SightLinereaders.com